May 28, 2023
Countdown to MMD 2023: Scale Challenge Week 8
If you've made it this far through the scale challenge, that is great work. I hope you're already enjoying the benefits of greater flexibility in playing and in thinking, and perhaps a deeper understanding of scales and how they function. You may also have noticed areas where you want to focus your practice, as they are not as strong as other areas, and hopefully you've developed a greater commitment to practice in general.
This week we are working on Gb (or F#) major; apply all of the same ideas as in the previous weeks, play through all of the previous scales at least once per day, and see if you can memorize all of them (if you haven't already done so). Think about how each one sounds, where it sits on your instrument, how you relate to the notes in each scale. Enjoy the work, we are almost there!
See you next week for the next key, and remember to tag us if you're joining in this challenge, #makemusicpractice
May 26, 2023
Make Music City of the Week: Frisco
Make Music Day is growing across Texas this year, with the established Houston and Laredo events now joined by Corsicana, Round Rock, Waxahachie… and this week's Make Music City of the Week, Frisco!
For the inaugural Make Music Frisco, you can join a kazoo parade around the water park at the Frisco Athletic Center, take a harmonica lesson at the Heritage Museum, learn to play Flowerpot Music at The Harvest at Frisco Commons, or catch Russell Stoneback's experimental "light guitar" that uses light like sound to create music in the Frisco Discovery Center's Black Box Theater. Not to mention pop up singer-songwriter performances all over town!
Visit the Make Music Frisco website
May 26, 2023
Make Music Partner of the Week: Makey Makey
Makey Makey joins Make Music Day for the second time in 2023. Using this circuit board, plugged into a computer, performers of all levels can turn everyday objects (like brat and cheese) into touchpads and use them to make music.
This year, Makey Makey will supply kits to selected Make Music Day chapters, and work with them closely to devise new, fun ways to incorporate this technology into collaborative music making and learning through play. Thank you, Makey Makey!

See some inspiring Makey Makey projects from Make Music Day 2022
May 26, 2023
Make Music, Make Friends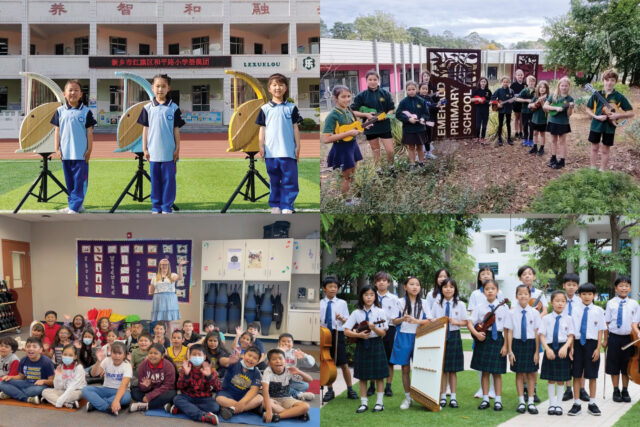 In a new global collaboration, Make Music, Make Friends is connecting school children aged 7-13 from Australia, China, India, Italy, Pakistan, Thailand, the U.K., and the U.S. on Make Music Day this year.
Ten classes from each country, coordinated by the Make Music Alliance and Make Music Day UK, are creating musical greeting videos (with traditional or modern songs), sharing them with schools from other countries, and having their students watch these musical messages on June 21.
Through this virtual exchange, Make Music, Make Friends exposes children to different regions and cultures, while providing an authentic audience for their own performance.
May 20, 2023
Make Music City of the Week: Boston
For the first time since the pandemic, Make Music Boston is back!
Under the new leadership of the Boston Music Project, Make Music Boston will feature an "ultimate jam session" outside of eight food trucks at the Rose Kennedy Greenway, a found sound beatmaking battle, a summer solstice festival with the Boston BID, and countless other creative events for and by the huge community of Boston musicians.
Visit the Make Music Boston website
May 20, 2023
Make Music Partner of the Week: Panyard
Steelpans are the only family of chromatic, acoustic instruments developed in the last century. Invented in Trinidad around the Second World War, they are traditionally handmade from oil drums, and hand-tuned by a small number of master pan tuners.
Although historically hard to come by, steelpans will be found in 11 cities around the U.S. in participatory events for Make Music Day 2023, thanks to Panyard's Jumbie Jams, an entry level steel pan designed to be easily playable by anyone.
Many thanks to Panyard!
May 20, 2023
Roomfuls of Pianos!
Roomful of Pianos has become a highly anticipated event at The NAMM Show in Anaheim CA, bringing spectacular performances of music arranged for 10 pianos, 20 pianos, or even 40 pianos to the show's international audience of music industry attendees.
This year, Roomful of Pianos comes to Make Music Day, with piano showrooms and music schools hosting colossal piano events around the U.S. on June 21. Among other pieces, repertoire will include free, multiple piano arrangements generously donated by Virtual Sheet Music.

Email us if you want to organize your own Roomful of Pianos event on June 21!

More details here
May 16, 2023
Countdown to MMD 2023: Week 7
I'm sure by now many of you already have figured out the order in which we are going through the keys, and if so, maybe you're even working ahead of schedule! We are so close to finishing, so please try to be extra diligent in your practice, work on focusing attention on all aspects of playing, and this 12 week practice will have an enormous beneficial effect on your musicianship.
This week, while playing the new key and all of the previous ones, let's focus our attention on how each note begins; observe what is happening, and then ask yourself if there is a way to polish and refine the beginnings of your notes, to play them as mindfully as possible. See what change this brings about in the sound of your scales.
Have fun! You're doing great work. See you next week for the next key, and remember to tag us if you're joining in this challenge, #makemusicpractice
May 9, 2023
Make Music Partner of the Week: Sweetwater
We'd like to take a moment to thank Sweetwater Sound for its longstanding Make Music Day sponsorship!
Since 2016, Sweetwater has spread the word about Make Music Day to thousands of customers, and even organized Make Music Fort Wayne for several years, bringing bands and musical discovery to their Indiana hometown on June 21.
These days, Sweetwater's dance card in June is filled with GearFest, taking place online June 23-24 with exclusive product launches, artist interviews and performances, unbeatable deals, and above all, gear.
But Sweetwater continues to join its customers in celebrating Make Music Day, and stands by to ship any last-minute gear that may be needed for June 21.
May 9, 2023
Create your own Make Music poster!
As you finalize your Make Music Day plans next month, take advantage of new tools to help get the word out!

You may have noticed our refreshed logos, but we also have an updated, easy-to-use poster generator where you can create images for your newsfeeds and stories, and let everyone know your June 21 plans. (Click the link and scroll down the page.)
Then share your posters on social media using the hashtag #MakeMusicDay, and don't forget to tag @makemusicday so we can repost!