June 19, 2018
#makemusicday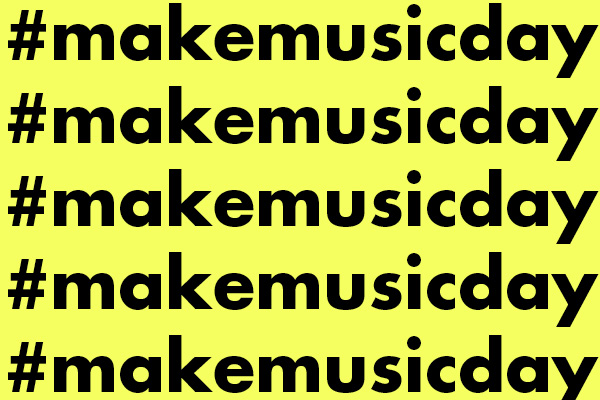 If you're posting about Make Music Day on social media, we want to see it and help spread your message!
Please use the hashtag #makemusicday across media platforms, along with any local hashtag your city may be using. Over the next few days we will be watching for the hashtag and reposting.
June 19, 2018
Make Music Country of the Week: Australia
On Thursday, the Australian Music Association launches Australia's first nationwide Make Music Day celebration!
Partners including City and State governments, the Sydney Symphony Orchestra, the Australian Broadcasting Corporation, and local organizers are coming together for more than 70 events around the country, in a wide range of settings and genres.
Whether recording their version of "Waltzing Matilda," taking a free Hammond Organ lesson, or joining a community Steelband performance, Make Music Australia participants are finding special musical ways to celebrate the (winter) solstice on June 21.
Visit the Make Music Australia website!
June 16, 2018
35+ Landmarks Across the U.S. Shining Orange for Make Music Day
For the second year, dozens of iconic buildings and landmarks around the country will turn orange in honor of Make Music Day!
Eight bridges, four City Halls, and new landmarks including Chicago's Navy Pier, Philadelphia's Liberty Place, and Long Beach's Convention Center will all participate by turning orange – evoking the sun, the start of summer, and the Make Music Day logo – on June 21 or the evening before.
Click here for the complete list!
June 16, 2018
Making Music at the M
Another unusual landmark joins Make Music Day this year in the small Wisconsin town of Platteville.
At June 21 on the Platte Mount M — the largest letter "M" in the world — bucket drummers, a drum circle, and junkyard percussion ensembles will play on each of the M's 266 whitewashed granite steps, directed by Nancy Fairchild, the founder of Make Music Platteville. Everyone is invited and the local public library is even sponsoring a "make and take time" where children can make a percussion instrument to bring to the event!
See Platteville's full program on their website.
June 16, 2018
Nationwide Bucket Drumming
It's not just Platteville. People in cities around the country will come outside next week on Make Music Day for special bucket drumming workshops.
In 27 cities, all percussionists who attend – kids and adults, professionals and first-timers – will be handed a pair of drum sticks generously donated by Vic Firth and invited to make music together. The events will range from structured classes to free-flowing bucket drumming circles, according to the concept of each local organizer.
Explore the bucket drumming events!
June 16, 2018
Make Music City of the Week: Liberty
Liberty, Missouri is another small town (population 30,000) with an outsized Make Music Day celebration.
Led by the Liberty Arts Commission, next week's third annual Make Music Liberty features over 50 performances of all kinds including a bagpiper, a hammered dulcimer ensemble, an Elvis impersonator, and a 10 hour "all kids" musical extravaganza at the Corbin Theatre Company.
Visit their website for full details!
June 10, 2018
Download the New Make Music App!
We are excited to release a brand-new Make Music Day app this year for iOS and Android! Download the app today and:
View the complete Make Music schedule in 75 cities, updated daily
Save events to your calendar and create your own itinerary
Play videos and musical tracks from participating artists
See updates from your local Make Music chapter, share your own photos… and more!
Download the app for Android
Download the app for iPhone
June 10, 2018
The MP3 Experiment at Make Music New York
If you're in New York City on June 21, free up space in your phone so you can download another app, too, and join the fifteenth annual Mp3 Experiment!
Mp3 Experiments are free, participatory audio adventures created by Improv Everywhere. Attendees download a smartphone app and listen to synchronized secret instructions in a public space via headphones.
Last June 21, over 3,000 people came to New York's Battery Park and made music together with Boomwhackers. This year's Experiment, once again part of Make Music New York, will be in Brooklyn Bridge Park, with a secret musical item generously donated to the first 1,000 participants by D'Addario to use in the event.
June 10, 2018
Make Music Country of the Week: France
Make Music Day all began in France with the Fête de la Musique. Starting as an initiative of the Ministry of Culture in 1982, the Fête de la Musique has become a nationwide musical holiday and a permanent part of the cultural calendar.
Each year, France counts more than 17,000 free concerts nationwide on June 21, 1,500 of them in the Paris region. A 2017 survey showed that 64% of the French population actively participates by performing or listening to music on June 21. Of those, 72% have no fixed plans, but "wander around at random" to discover the music coming from every street corner.
On June 21 this year, follow the Ministry of Culture's Fête de la Musique Facebook page for 24 hours of live footage from France and around the world!
June 10, 2018
Make Music Day and Sweetwater
We'd like to take a moment to thank Sweetwater Sound for its multi-year Make Music Day sponsorship.
Over the last four years Sweetwater has spread the word about Make Music Day to hundreds of thousands of customers, and has been the driving force behind Make Music Fort Wayne, bringing bands, play-alongs, and family fun to Friemann Square in their Indiana hometown on June 21.
This year's Make Music Fort Wayne is taking a year off (due to a date conflict with GearFest) but Sweetwater continues to join its customers in celebrating Make Music Day, and stands by to ship any last-minute gear that may be needed for June 21!