June 10, 2018
The MP3 Experiment at Make Music New York
If you're in New York City on June 21, free up space in your phone so you can download another app, too, and join the fifteenth annual Mp3 Experiment!
Mp3 Experiments are free, participatory audio adventures created by Improv Everywhere. Attendees download a smartphone app and listen to synchronized secret instructions in a public space via headphones.
Last June 21, over 3,000 people came to New York's Battery Park and made music together with Boomwhackers. This year's Experiment, once again part of Make Music New York, will be in Brooklyn Bridge Park, with a secret musical item generously donated to the first 1,000 participants by D'Addario to use in the event.
June 10, 2018
Make Music Country of the Week: France
Make Music Day all began in France with the Fête de la Musique. Starting as an initiative of the Ministry of Culture in 1982, the Fête de la Musique has become a nationwide musical holiday and a permanent part of the cultural calendar.
Each year, France counts more than 17,000 free concerts nationwide on June 21, 1,500 of them in the Paris region. A 2017 survey showed that 64% of the French population actively participates by performing or listening to music on June 21. Of those, 72% have no fixed plans, but "wander around at random" to discover the music coming from every street corner.
On June 21 this year, follow the Ministry of Culture's Fête de la Musique Facebook page for 24 hours of live footage from France and around the world!
June 10, 2018
Make Music Day and Sweetwater
We'd like to take a moment to thank Sweetwater Sound for its multi-year Make Music Day sponsorship.
Over the last four years Sweetwater has spread the word about Make Music Day to hundreds of thousands of customers, and has been the driving force behind Make Music Fort Wayne, bringing bands, play-alongs, and family fun to Friemann Square in their Indiana hometown on June 21.
This year's Make Music Fort Wayne is taking a year off (due to a date conflict with GearFest) but Sweetwater continues to join its customers in celebrating Make Music Day, and stands by to ship any last-minute gear that may be needed for June 21!
June 4, 2018
Make Music City of the Week: Niterói, Brazil
Just outside of Rio de Janeiro, the Brazilian city of Niterói launches its first Make Music Day this year, with over 100 artists confirmed to make music all over town!
Among many notable events in Niterói, a grand piano will be set up on the sidewalk outside the Municipal Theater and renowned classical pianists will play recitals for passersby. The city's famous Museum of Contemporary Art will be lit up in orange to honor Make Music Day, in addition to hosting bands.
Meanwhile, Brazil's Anafima association is leading a national Make Music week from June 18-24, focused on learning and teaching musical instruments. No matter where you are in the country, Make Music Day is on its way to you!
June 4, 2018
Water Music at Make Music Boston
This year, one of Make Music Boston's "anchor performances" takes place, appropriately enough, on the water.
Inspired by the Charles River and Handel's famous Water Music, fifty musicians (brass players, percussionists, and singers) will perform newly commissioned work by Marti Epstein, C. Neil Parsons, Maria Finkelmeier, Anthony Green, and Manuel Garcia Albornoz while standing along the Charles River Esplanade at sunset. Listeners will walk within and around the performers to create their own musical experience.
Learn more on the Make Music Boston website.
June 4, 2018
Young Composers Contest
For the second year, software company MakeMusic Inc. and the nonprofit American Composers Forum held a Make Music Day composition contest this spring for young composers, aged 13-21, writing music for middle school band.
Out of dozens of impressive entries, judges this year selected two winners – Adrian B. Sims of Baltimore and Louis A. Josephson of Princeton Junction (NJ) – to have their respective pieces, Force Field and Galliard Overture, premiered live in Cleveland, Minneapolis-St. Paul and other select cities on Make Music Day.
If you're a band director, we invite you to add these pieces to your June 21 programs! Scores and parts are available to download here.
June 4, 2018
Mamma Mia! Sing-Along Trucks
At this year's Make Music Day in New York City, Los Angeles, Chicago and Miami, fans can dance, jive and have the time of their lives while singing their favorite ABBA songs on the sidewalk, accompanied by live musicians playing from the back of pickup trucks.
In celebration of the new original movie musical "Mamma Mia! Here We Go Again," the sing-along trucks will make stops at several locations in each city throughout the day.
Updated times and truck stops will be posted soon on our website. Come out and sing along!
May 25, 2018
Make Music Country of the Week: Italy
Italy's Festa Della Musica began in 1985, shortly after the founding of France's Fête de la Musique. But it's only in the last few years that it has grown to its current enormous size: 10,707 performances by 34,137 musicians across 571 cities in 2017 (up from "just" 85 participating cities in 2015)!
This year, thousands of free concerts will take place in 14 airports, 24 national parks, 140 ports, all 177 Carrefour supermarket locations, and on countless street corners.
Check out the official website for an up-to-date look at Italy's huge celebration.
May 25, 2018
Music Performance Trust Fund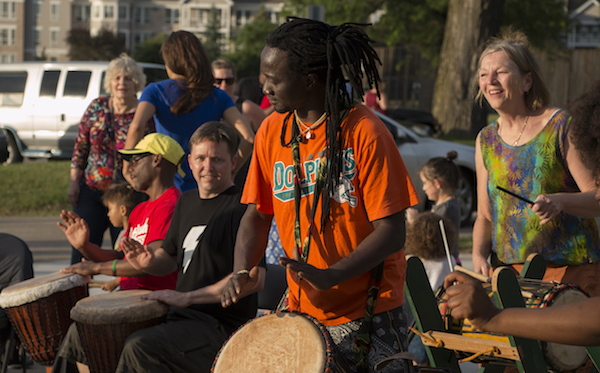 For the fourth straight year, the Music Performance Trust Fund is supporting over a dozen special initiatives for Make Music Day in the U.S. that give professional musicians the chance to mentor up-and-coming players, while providing a high-quality concert to the public.
Featured events for 2018 include concerts for accordions in the Twin Cities, percussionists in Nashville, saxophonists in Chattanooga, and Sousapaloozas around the country.
We thank the MPTF for supporting so much music! Visit their website to learn more.
May 25, 2018
Rural Music Making
"What happens," asks the Make Music Day UK team, "when you live in a small village, where the biggest performance space is a local hall (if you're lucky) and your local orchestra consists of 4 flutes, a djembe and a very persistent nightingale?"
The fact is, even if you're far from the nearest city, Make Music Day is for you, too!
For those in search of an audience, Make Music Day UK has developed a Rural Music Toolkit (pdf) explaining how to perform and live-stream your music from the most far-flung locations. For others, playing music in wild and remote spaces is its own reward.
Read more ideas and advice from Make Music Day UK here.