June 1, 2022
Keep Music Alive: Helping Kids and Adults Access the Benefits of Playing Music
Interview with Keep Music Alive co-founder Vincent James, conducted by the Make Music Alliance in May 2022 
How did Keep Music Alive begin?
My wife and I founded it. It started as an informal organization back in 2014, when we launched a story search for a book series that is called "88 Ways Music Can Change Your Life"; it's like a "Chicken Soup for the Music Lover's Soul", with inspirational stories about how music impacted different people's lives. The concept for keep Music Alive organically grew out of that.
What are the main activities of Keep Music Alive?
In March of 2015 we started Teach Music Week, where we work with music stores and schools  to offer a free music lesson to kids and adults, to inspire people to get started on their musical journey. There are now over a thousand schools and store locations in about a dozen countries that participate each year. About a year after that we started Kids Music Day on the first Friday in October; for this, we partner with the same locations around the world to offer some sort of event or promotion that benefits or celebrates kids playing music. That could be an instrument petting zoo, kids open mic, a student performance in house or in the community, an instrument donation drive, pretty much anything they can think of that benefits or celebrates kids playing music. In addition to these two major programs, year round we do Musical Instrument Petting Zoos.
How did you start playing music?
When I was in elementary school we were offered a chance to play a musical instrument; first I wanted to play guitar and drums, but guitar wasn't offered, and my parents said no to the drums. So, I picked up the trombone and played in bands all the way through school, which was an awesome experience. When I was about 10 or 11, my mom convinced my dad to bring a piano into the house, because she had always wanted to learn the piano. I saw her learning and I was drawn like a bee to honey, asking when can I start. I took classical piano lessons for about 3 years and then I taught myself to play pop music, took a few lessons on guitar, and I've been writing and playing ever since. I think of myself as a semi professional musician. I have a full time unrelated job, but music has always been an extremely important part of who I am.
What are your goals and visions for Keep Music Alive?
We want to continue growing the organization, working on our fundraising to be able to support a small staff so that we can support 100-120 instrument petting zoos per year, and we also hope to do some sort of local grant program where we have grants to award instruments to schools or students that have a specific need. We want to continue to live in that space full time.
It's wonderful that you include adults as well as children in your beginner music programs; how do you invite adult beginners to get involved?
That is very important to us. For Teach Music Week, our partners offer a free lesson to anyone who is interested, kids or adults. The Instrument Petting Zoos are generally geared toward kids, but we often have parents come in who are interested in learning, so we talk to them and give them ideas about getting started and point them in the right direction. I can't count how many people come up to me and say "I always wished I had learned to play the piano" or guitar, whatever instrument they are interested in, and we always tell them it is never ever too late to start. One guitar student I had didn't start playing guitar until he was 80 years young! He worked with me for 5 years until the pandemic came, and then we had to stop, but it was a great experience for him. His wife would talk about how it was so valuable, he got so much joy out of it and it helped to keep his mind clear. There are so many benefits to playing music for adults as well as for kids.
May 26, 2022
The Return of Sousapalooza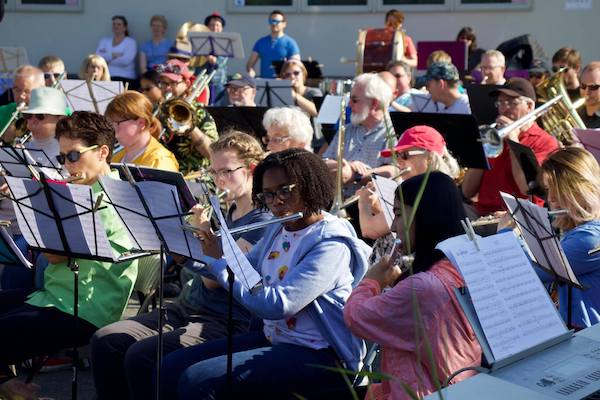 Since 2011, Make Music Chicago has pioneered the "Sousapalooza" – an invitation for hundreds of brass, wind, and percussion players to come together and sightread the music of The March King, John Philip Sousa.
After a couple of years off during the pandemic, Sousapaloozas will return in 2022 in cities around the U.S. from Portland ME to Wichita KS.
Want to bring Sousapalooza to your town? All you need is a bandleader, a location, and a way to spread the word to local brass and woodwind players.
Then just sign up here!
May 26, 2022
Introducing the Make Music Network

Make Music Day could never happen without hundreds of partners playing a part in each community.
To highlight some of our national non-profit colleagues, we've started the Make Music Network, a community of organizations who partner with the Make Music Alliance on June 21, and do meaningful work year-round to create a society of music-makers.
Check out our interviews with Maker Music Festival co-founder Sherry Huss, and Guitar 4 Vets co-founder Patrick Nettesheim.
(More interviews coming next month!)
May 26, 2022
Make Music Partner of the Week: D'Addario
D'Addario joins Make Music Day again this year as one of our Mass Appeal partners, providing free drumsticks for over 20 bucket drumming events in plazas and parks around the country!
All percussionists who attend – kids and adults, professionals and amateurs – will be handed a pair of D'Addario's ProMark drumsticks and invited to make music together. The goal is to spread the message that to make music, all you need is a beat in your heart… and a pair of sticks.
Thank you D'Addario!
May 26, 2022
Make Music Region of the Week: Southeastern Connecticut
Since Make Music Connecticut began four years ago, the state's southeast has stood out for its incredible Make Music Days. (Check out this video from Make Music New London in 2018!)
This year will feature 100+ performances across the region on June 21, including main stages in downtown New London at the Whale Tail, Hygienic Art, and the Garde Arts Center; a jam-packed schedule in Old Lyme with a Music Stroll along Lyme Street; and the Afro-Semitic Experience at the Henry Witfield State Museum in Guilford.
More at the Make Music Southeastern Connecticut website!
May 19, 2022
#MySongIsYourSong!
Songwriters and composers of all kinds are invited to join Make Music Day's 3rd annual global song swap, called #MySongIsYourSong.
Sign up to learn and perform a song by another artist, from another part of the world, and hear one of your original songs covered by them in return! Nearly 200 artists took part in 2021, with more expected in 2022. In order to guarantee a match, you must register by May 23rd at makemusicday.org/songswap. Partners will be carefully selected and introduced the first week of June, then will share their video performances on June 21.
(Don't write your own music? Don't feel left out! Join Make Music Day UK's Global Folk Challenge: share a folk song from your country, and in exchange, learn and perform a different folk song submitted by another participating musician – sign up by May 23rd!)
May 19, 2022
The NAMM Show + The American Song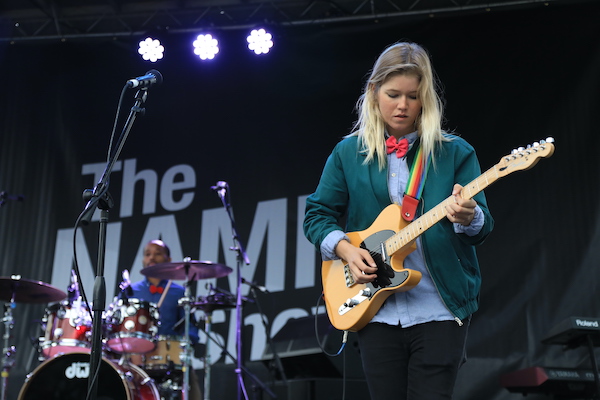 Over the last two years, Make Music Day's The American Song has captured the stories and experiences of ordinary people from around the country. On June 21, 50 professional songwriters video-chatted with an interviewee in the morning, wrote a song inspired by the conversation in the afternoon, and then performed it online that evening.
In June 2022, for the first time, The American Song will become a live, in-person event at The NAMM Show in Anaheim California! Songwriters will interview randomly selected attendees to learn about their lives, then come up on stage 24 hours later to play a brand new song inspired by their conversations. All songs will be filmed and released for Make Music Day on June 21, 2022.
Register to attend this year's NAMM Show on June 3-5!
May 19, 2022
Make Music Partner of the Week: Panyard
Steelpans are the only family of chromatic, acoustic instruments developed in the last century. Invented in Trinidad around the Second World War, they are traditionally handmade from oil drums, and hand-tuned by a small number of master pan tuners.
Although historically hard to come by, steelpans will be found in 19 cities around the US in participatory events and "petting zoos" for Make Music Day 2022, thanks to Panyard's Jumbie Jams, an entry level steel pan designed to be easily playable by anyone.
Many thanks to Panyard!
May 19, 2022
Make Music City of the Week: San Francisco
Few people know that San Francisco had one of the very first Fêtes de la Musique in the United States, a June 21st event along Market Street called "Making Waves" that ran from 1992-1997.
It's taken almost 25 years, but the city is finally back with Make Music San Francisco! Building off of the popular "Just Add Music" program of outdoor concerts during the pandemic, the city's businesses, government, and cultural groups are uniting to bring the streets back alive with music on June 21, 2022.
More details will be posted soon on the Make Music San Francisco website.
May 17, 2022
Guitars 4 Vets: How Private Guitar Lessons Started a Global Movement
Interview with Guitars 4 Vets co-founder Patrick Nettesheim, conducted by the Make Music Alliance in May 2022.
How did Guitars 4 Vets begin?
This was not part of the master plan, I wanted to be a rockstar! I played music since childhood, starting on trumpet (but I was allergic to valve oil) and later moving on to guitar and piano. I have played in bands all my life, and started teaching music at age 16, and I've been teaching ever since. In fall 2006 I met Dan Van Buskirk, a combat veteran who always wanted to play guitar, but felt that his disability (PTSD) prevented him from connecting to music.
How did Dan find you?
I was teaching at a music store in Brookfield WI (Cream City Music) and playing in bands. Dan came to me for lessons, and we started working with my P.A.G.E. approach (Patience, Acceptance, Gratitude and Empathy), and quickly forged a strong student/teacher bond. My belief is that music when it works is a spiritual experience, and the guitar is the catalyst for positive human interaction. Music is the telekinesis of emotion; you take your thoughts and feelings, and now you can feel your feelings.
How did Guitars 4 Vets begin?
Because his guitar lessons helped him so much with his PTSD, it was Dan's idea to go to the VA in Milwaukee, as he felt compelled to share the benefit. I was too busy, but Dan persuaded me! We went with the intention of playing for the people in spinal rehab at the VA. The store where I was teaching was owned by Joe Gallenberger, whose dad had recently died of complications from PTSD (he was a veteran of the Korean War). When Joe heard that we were going to play music at the VA, he handed me 2 guitars and said "Take these in honor of my dad, and use them to help these people". We handed the guitars to the veterans, and started teaching! When we finished, the nurses said "you're coming back next week", and more and more people joined. Soon after this, we decided to form a nonprofit. I came up with the name, googled it, and nothing came up, so we went ahead and registered it and had nonprofit status within a year. Now this is a global movement
What is your primary mission with Guitars 4 Vets?
What we are doing is making the therapeutic nature of music making available for free. We provide guitars and lessons for Military Veterans, at no cost to them. Upon graduation, each Veteran is awarded a guitar, gig bag, picks, strap, tuner, stand, method book, capo and a certificate of completion. Since 2007, Guitars for Vets has provided nearly 6,000 new guitars and 60,000 lessons to our Nation's Veterans. More than 110 chapters have been established in over 40 states, and 500 volunteers assure the mission is successful.
What is the Guitars 4 Vets approach to teaching?
The way we teach is guided by the students, we ask the student what they want to learn. Show them the concept, and then demonstrate a practical application that the student is interested in. We then encourage them to do something on their own with it. We light the way while they are searching for their path.
I see you are hosting a big event on Make Music Day, June 21st 2022; would you like to say something about that?
The 21 Guitar Salute honors the men and women that have served in the military and are now living with the challenges of Post Traumatic Stress [PTSD]. Donations collected from this event will support our brothers and sisters on their journey toward recovery by providing them with free guitars, lessons, teamwork and camaraderie.