Make Music Day - Austin is a live, free musical celebration on June 21st, with virtual concerts, lessons and activities online. Scroll down to learn more & sign up!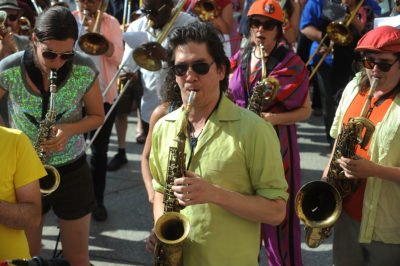 Last year, over 1,000 cities around the world threw citywide music celebrations on June 21st for the annual Make Music Day, and this year Austin will join that list.
It all started 37 years ago when France's Ministry of Culture dreamed up an idea for a new kind of musical holiday. They imagined a day where free, live music would be everywhere: street corners and parks, rooftops and gardens, store fronts and mountaintops.
And, unlike a typical music festival, anyone and everyone would be invited to join and play music, and the event would take place on the summer solstice, June 21st.
Fast forward to today and Make Music Austin will join the international Make Music Day movement which brings free, community-wide, musical celebrations to over one-thousand cities worldwide!
Make Music Austin will feature an online celebration of musicians of all abilities and music from any genre on Sunday, June 21st.  This year we will all stay safe and celebrate together, but separately, online and create a virtual stage for local musicians to perform and for all to enjoy. Everyone is invited to participate in this international day of music by performing, teaching and learning, appreciating, or volunteering. It's all for the love of music!
Make Music Austin is brought to you by local Austin businesses, organizations and musicians as part of our mission to inspire all people to participate and invest in the arts.
Still curious? Check out the national Make Music Site.
Keep scrolling down to sign up!
Want to play? There's always room in the band.
We welcome musicians from all genres, cultures, and ability to share your creativity with the shoppers and residents of Austin. We invite musicians, rock bands, instrumentalists, singers, jazz combos, glee clubs, MCs, marching bands, church choirs, rappers, mariachis, and every other kind of musician, of any age group or skill level, are all welcome. Bring your instrument to your next video conference call and serenade your co-workers!
If you are a business, venue or an artist, click here to get involved!
Got something share with a crowd?  From jam sessions to DJ lessons, samba workshops to a pop-up band, get in touch at austin@makemusicday.org!
When we say, Performed by Anyone, Enjoyed by Everyone, we really mean it. For 2020 we're putting together a number of special events to draw even greater numbers of musicians and appreciators into the fun online. You'll be able to join in on mass appeal shows designed to bring together dozens — no, hundreds — of artists to perform pre-selected pieces together.
Our generous sponsors want to celebrate your music making – so share your songs with us and each entry will qualify you for some amazing prizes!! Simply tag your live or recorded music with #makemusicdayaustin and you'll have a chance to win!
Make Music Day is the perfect opportunity to shake the dust off your instrument and start playing again, or to pick up an instrument for the first time. This June 21, music teachers from around the world will offer 12 hours of free, online group lessons for 25 different instruments, at a range of levels from beginning to advanced. Jump around to sample a range of instruments, or binge on 12 straight hours of your favorite. A full schedule is posted here: https://www.makemusicday.org/national-projects/25×12-live-online-lessons/
Thanks to our generous friends at Guitars in the Classroom, we are going to have two amazing classes to get you rocking on the ukulele in no time! GITC Teaching Artists will guide you through the basics of strumming, keeping the beat and tempo and playing your first song on the ukulele. For those of you that have dabbled in uke and need just a little push to get back into your inner rockstar persona, we'll have a PLUS session that will inspire you to pick up your instrument again.
KORG tech experts will be online to introduce you to a cool way to make amazing sounds and beats with the KORG volca line. They will walk you through the different synth options available, how they work and how they can each make unique, high quality sounds in a matter of minutes. This session is sure to inspire music makers of all levels and abilities.
Evan from PreSonus will walk you through the ins and outs of how to make music using a Digital Audio Workstation, or DAW using their amazing product, StudioOne. StudioOne is a great tool to use whether you are a beginner or professional, and they've got the products to support everyone! If you don't have it already, be sure to visit their website before Sunday to download the FREE software so you can follow along during this informative session. https://shop.presonus.com/Studio-One-4-Prime 
Don't miss our special guest Tami LaTrell in an amazing session to help inspire you in your songwriting journey. Tami is a multi-platinum, GRAMMY-nominated songwriter who's written for artists such as Whitney Houston, Monica, Keyshia Cole, SWV, Rotimi and Country duo Love and Theft to name a few. She inked her first music publishing deal with EMI Music Publishing in 2002 under the leadership of Big Jon Platt, and is now an established writer with Sony/ATV Music Publishing. Aside from songwriting, she facilitates music publishing and copyright workshops online as a music and rights protection advocate and also speaks at different universities and music programs in schools.
This year for Make Music Day, join composers, producers and songwriters from around the world in a collaborative race against the clock.
Over the course of six hours, teams of four musicians will create brand new original tracks in a creative relay. Using the virtual audio workstation SoundTrap, each musician will get 90 minutes to add their contribution before the next teammate takes over. At the end of the day, we will bounce each team's track and host them online for everyone to hear.
Interested in joining the Track Meet? Register to be matched with a creative team or sign up with your own group of four musicians by June 7th.
In partnership with Make Music Australia and Make Music China, the Make Music Alliance invites everyone to post a musical performance from home on June 21, and tag three friends to challenge them to do the same.
Deadline to enter is May 21st!
If you would like to have your business sponsored at this event or if you have questions you can email austin@makemusicday.org