About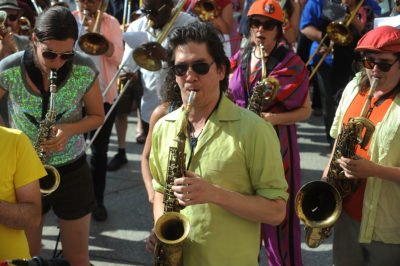 Last year, over 1,000 cities around the world threw citywide music celebrations on June 21st for the annual Make Music Day, and we are proud to have Austin on that list.
It all started 38 years ago when France's Ministry of Culture dreamed up an idea for a new kind of musical holiday. They imagined a day where free, live music would be everywhere: street corners and parks, rooftops and gardens, store fronts and mountaintops.
And, unlike a typical music festival, anyone and everyone would be invited to join and play music, and the event would take place on the summer solstice, June 21st.
Fast forward to today and Make Music Austin will join the international Make Music Day movement which brings free, community-wide, musical celebrations to over one-thousand cities worldwide!
Make Music Day in Austin will feature live, in-person as well as online celebrations of musicians of all abilities and music from any genre on Monday, June 21st.  Everyone is invited to participate in this international day of music by performing, teaching and learning, appreciating, or volunteering. It's all for the love of music!
Make Music Austin is brought to you by local Austin businesses, organizations and musicians as part of our mission to inspire all people to participate and invest in the arts.
Still curious? Check out the national Make Music Site.
Keep scrolling down to learn how to get involved!