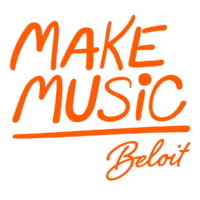 Make Music Beloit is a live, free celebration of music on June 21, the longest day of the year, with concerts on streets, sidewalks, and parks across the city.
Make Music Beloit inaugural launch is Wednesday, June 21, 2023. The city will come alive with music in the streets, parks, offices, schools, and unique venues near you!
Make Music Beloit is a free, citywide, day of music held annually on the summer solstice. Our festival is part of the larger Make Music Day, an international summer solstice music celebration occurring in 1,000+ cities across the globe. Did you know that Wisconsin has more cities participating in Make Music Day than any other state in the United States?
Make Music Beloit is:
Performed by Anyone, Enjoyed by Everyone.
A way to celebrate the summer solstice, enjoy the longest day of the year, and sample a wide variety of musical styles and tastes.
A DIY city-wide celebration when almost any way to make music can and will happen.
Open to music makers of all ages, skill levels, and musical interests.
In 2023, a total of 34 performances are scheduled (with more to happen spontaneously!) by 24 different artists or groups at 13 unique venues.
When?
Annually on June 21
Where?
Thirteen different venues are participating in 2023
Who is Make Music Beloit?
Celestino Ruffini, Tracy Bliss, and Tyechia Price of Visit Beloit
Brenda Plakans of Welty Environmental Center
Shauna El-Amin of Downtown Beloit Association
Nancy Clark-Mather of Beloit FilmWorks LLC
Jody Wittnebel of The Castle
Julie Uram of Nature at the Confluence
To join our group of volunteers for outreach, publicity, sponsorships, and planning, email us at beloit@makemusicday.org.
2023 Listings: Wednesday, June 21st
ADDED BONUS!
Be sure to stop by the Beloit Art Center during Make Music Day for a bonus exhibit. Sculptor Salem Barker will be showcasing several pieces in the Sveum Gallery for a limited time. Salem began his sculptural career in 2007 and now has art in nearly every state in the country, as well as in other countries. Larger pieces have been installed in private corporate settings in sizes as tall as twenty-five feet, while most pieces adorn the homes of art lovers. Showing in some of the finest juried art shows in the country, Salem is a frequent award winner. We are honored to present a small selection of his work from June 16 – 21.
Beloit Art Center gallery hours are Monday, 10 a.m. – 2 p.m., Tuesday – Friday, 10 a.m. – 5 p.m., and Saturday, 10 a.m. – 2 p.m.
Musicians: All styles, ages, and experience levels are invited to register to perform! You can play one set or schedule as many shows as you like.
Venues: Whether you have a garden, office, pontoon boat, sidewalk, café, or other space in mind, it's easy and there's no cost to participate.
Important Dates:
Venue Registration Opens: February 22
Musician Registration Opens: March 1
Matchmaking Begins: March 8
Registration Closes: June 2
Matchmaking Ends: June 7
What is Matchmaking?
Matchmaking is our system of connecting musicians with venues. After creating an account, venues can browse musician profiles and vice versa and participants request a booking. A few tips:
Don't be shy! Feel free to send requests. It helps to put yourself out there and you can book as many shows as you want.
Respond to requests in a timely manner. No one likes to wait to hear back. If it's not a good fit, let the other party know so they can move on.
Follow up! You can send direct messages through the system or reach out via phone or email.
In the end, just about everyone who wants to participate will match up. If you need assistance, send a message to beloit@makemusicday.org.
Who can host?
Is your venue located in Beloit?
Is it free and accessible to the public?
Questions? – Email beloit@makemusicday.org.
Sponsorship Opportunities
This citywide event creates a stronger community for all. Your partnership allows the event to be promoted to those near and far. To learn more about sponsoring this event, please contact us at beloit@makemusicday.org.