Make Music Bethlehem is a live, free musical celebration on June 21, the longest day of the year, with concerts on streets, sidewalks, and parks across the city.
It's easy to get involved!
Click here to access the "match-making" service and follow these instructions:
Performers: create your profile by submitting a photo, description of your act, and any relevant website/social media links. Check out the available venues and bid on one that will fit your needs. The venue will confirm your request, and you're good to go.
Venues: create a profile by submitting your location information and a description of the space. Peruse the musician profiles to request a performance, or welcome musicians to bid on your space independently. Confirm the connection and make sure your space is ready to go on June 21st!
If you are returning as a performer and/or as a venue you can use your login credentials from the previous year.
Deadlines:
May 14th to be included on the poster
June 7th last day for registration
Make Music Bethlehem is an event for people who love both music and the strong sense of community that it can create. Make Music Day brings music makers of all ages and experiences out to the sidewalks, parks, porches and public places of Bethlehem on June 21, the first day of summer.
This is a free celebration of music-making that takes place on the same day in more than 120 countries and 800 cities across the globe. On June 21, the summer solstice and longest day of the year, New Hampshire musicians of all ages, backgrounds and skill levels will be empowered to perform from several indoor and outdoor public spaces in a celebration of music like no other.
Anyone can take part in Make Music Bethlehem. All day long, anyone lucky enough to be in Bethlehem, New Hampshire can join in to make music or enjoy being surrounded by it. It's the longest day of the year, the best to spend making music! Make Music Bethlehem is organized and sponsored by Bethlehem Events, a volunteer non-profit organization focused on promoting pride and community spirit among residents, enhance Bethlehem's image, attract new residents, businesses and visitors, and improve the social and economic well-being of residents of Bethlehem. We accomplish the goal of strengthening the vibrancy and activity of the Bethlehem community by recommending, overseeing, and organizing an annual portfolio of cultural and recreational special events, programs and activities.
Make Music Day Bethlehem is an outgrowth of the Fete de la Musique, which originated in France in 1982. The event began as a call to musicians in Paris to get out in the streets on June 21 and play their music. It has since spread and has a large footprint, particularly in Europe and parts of Africa, but also in a handful of cities getting started in the U.S. We think this is a great way to showcase our town and the many talented and amazing people that make the White Mountains special.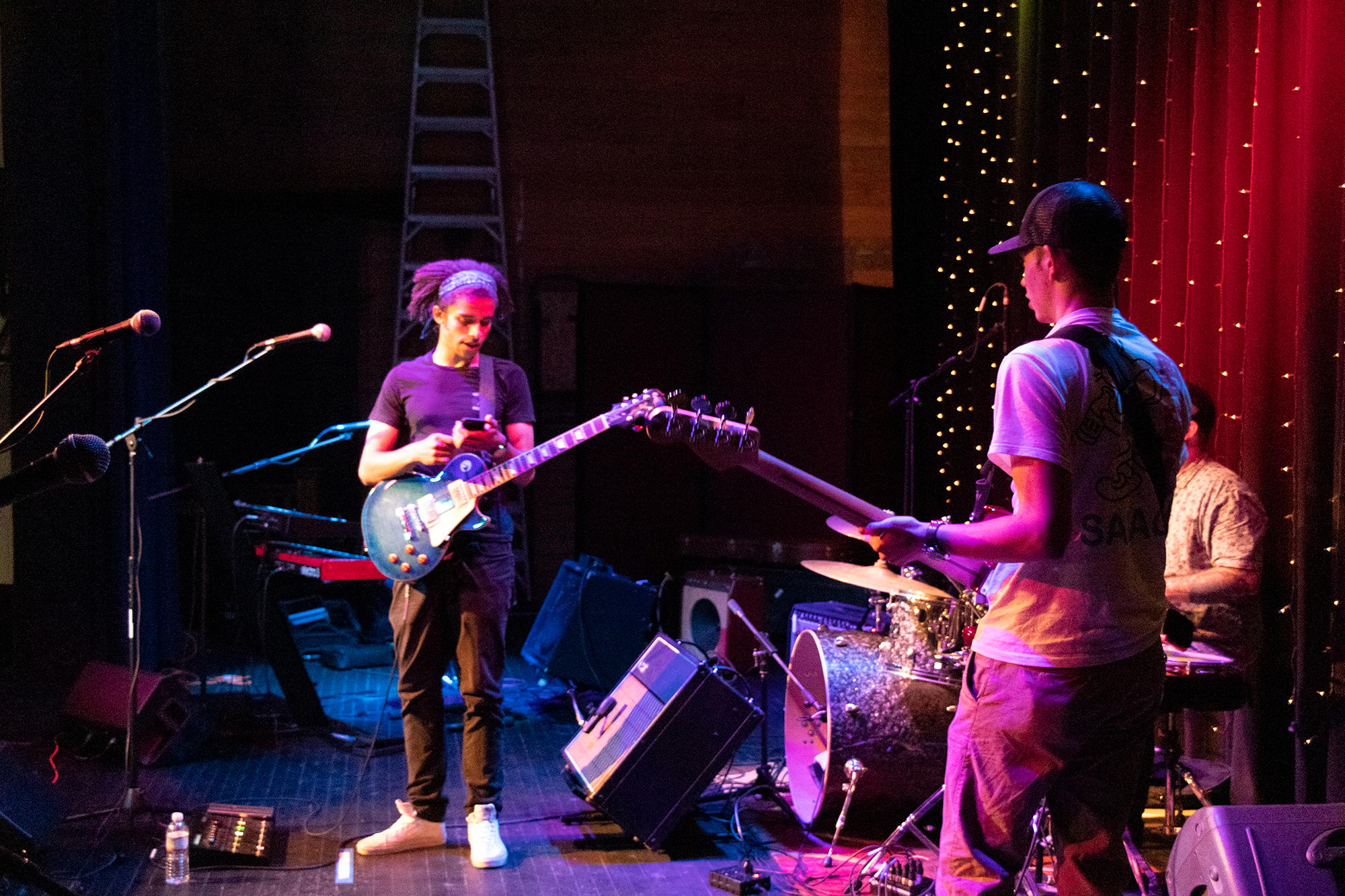 Make Music Bethlehem is free and open to the public and your contributions make it all possible!
For sponsorship inquiries, check out Sponsors or please contact us at bethlehem@makemusicday.org
Make Music Bethlehem is a community-based fiscally sponsored non-profit through Bethlehem Events and North Country Community Radio. Donations to Make Music Bethlehem are tax deductible. You can donate directly to Bethlehem Events or contact Bethlehem Events at hello@bethlehemevents.org
We are proud to be a part of the Make Music Alliance! Check out the Make Music Day website for more information.
Make Payments to Bethlehem Events C/O Make Music Day Bethlehem
Volunteer
We need your help to Make Music Bethlehem successful, and we are looking for community volunteers of all ages, experiences, and backgrounds (not necessary to be a musician) to help with Bethlehem's largest musical celebration. Contact Us to Volunteer
2018 Performers
Echo Location • Katie Rose • GeNreal • Malcolm Budge • Kris & Serena • Chris Palmero
The Fellahs • Pablo Flores • The Jowas • Jason Spooner Band • Barnyard Pimps
2018 Performance Locations
Rek.Lis Brewery • Cold Mountain Cafe • The Maia Papaya • 42 Maple • Love Yarn Shop • Colonial Theatre
WHERE DID THE IDEA OF MAKE MUSIC DAY BETHLEHEM COME FROM?
Make Music Day Bethlehem (MMDB) is based on France's Fête de la Musique, a national musical holiday inaugurated in 1982. The festival has become an international phenomenon celebrated on the same day, June 21st, in more than 800 cities in 120 countries, including Germany, Italy, Switzerland, and Japan. American cities include Bethlehem, New York, Chicago, Denver, Nashville, Boston, and Seattle, among others. To find out more visit the Make Music Alliance 
WHO CAN PARTICIPATE?
Anyone and everyone can participate. Amateurs, students, professionals, and established artists are all welcome. MMDB is open to artists of all ages, all levels of ability, individuals and groups, and all musical categories.
HOW DO I SIGN UP TO PERFORM / HOST A MUSIC PERFORMANCE?
Musicians and host locations can use our 'Match-Making' tool on the Participate page to register and make performance arrangements with each other. Sign Up Click Here  DEADLINE IS FRIDAY JUNE 7th
WHERE DO THE MUSICIANS PLAY?
A variety of locations are possible for the performances. Some sites are parks, churches, in front of restaurants or businesses, the Colonial, and 42 Maple.
WHO WILL PROVIDE A STAGE / BACKLINE / TUNED GRAND PIANO / ETC., FOR MY PERFORMANCE?
Make Music Day Bethlehem is not a typical music festival. MMDB is about neighborhoods and people getting together in their neighborhoods in a do-it-yourself fashion, putting together their own musical events. Our organizers set up the framework for performances — the rest is up to you! Artists and locations collaborate to produce the events, arrange for electricity, and provide whatever equipment is needed.
Bethlehem is your stage. We won't be constructing stages. Performances generally take place at the same level as the audience.
You have complete artistic control. It's your performance. If you want to perform with a different guitarist than previously announced, or take an extended 20-minute bass solo, you don't have to ask our permission! (But let us know if we need to update your concert description.)  And everyone can take part. From professionals to amateurs, from the mainstream to the unfashionably bizarre — if you can find a workable spot for your performance, you can be part of Make Music Day Bethlehem!
HOW DO I SIGN UP TO PERFORM WITH MY FRIENDS? HOW DO I CURATE A SHOW WITH MULTIPLE ARTISTS?
It's a great idea to partner up with a friend or many friends! So that we have a unique musical description and web address for every performer, each artist should sign up separately. Then have each one match themselves to the same location, at different time slots. If the entire program has a particular theme or title, put that in the location's description box.
WHAT IF MY BAND SIGNS UP NOW AND HAS TO BACK OUT LATER?
We are counting on you to perform. If you do need to cancel, it is your responsibility to find another performer to take your spot. Please let the location and us know about all program changes ASAP.
WILL MUSICIANS BE PAID TO PERFORM AND WILL THE VENUE CHARGE A FEE TO HOST A PERFORMANCE?
Make Music Day was designed to be a free music event, therefore the performers are not compensated. The venue sites must also host performances without a fee to either the performers or the Make Music Day organization. Make Music Day events around the world invite everyone from the community to either perform, host or attend musical performances and celebrate the first day of summer. The design of a free musical event for everyone is the spirit of Make Music Day throughout the 800 plus cities worldwide that participate.
Although performers and host sites are not paid for their musical performances, we help coordinate the overall event and publicize the event with posters, media stories, social media posts, performance listings with our media partners, and an interactive website.
CAN MMDB PERFORMERS SELL CDS, MERCHANDISE OR ASK FOR DONATIONS?
Musicians are allowed to sell their band or individual musician merchandise and CDs during their Make Music Day performance. Musicians can also promote any future performances.  Performers may discreetly solicit donations during their Make Music Day performance.
WHAT WILL MMDB DO TO HELP PROMOTE MY CONCERT?
We list all performances on the MMDB website (with descriptions and artist websites), on other social media, include in any newspaper articles about MMDB, and for those performers and venues that register by Tuesday, May 14, they will be included on the official MMDB poster distributed to businesses throughout the region.
We also encourage all musicians and host locations to do their own promoting – sending out email blasts, putting notices on websites, including on social media, handing out flyers to customers, inviting all employees, customers, family, and friends, etc. Obviously the more you help promote, the more people will come to see you perform and attend at your host location.
HOW LATE IN THE EVENING CAN MY PERFORMANCE GO?
In most cases, amplified music can be played until 10 p.m. but this will depend on where you are. Acoustic or unamplified music can be played after 10 p.m. There are some venues and events that will continue after 10 p.m. so please consult the schedule.
CAN MY CONCERT BE "INVITATION ONLY"?
No. The MMD event is a free music event for anyone to attend.
CAN I CREATE A MMDB EVENT THAT DOES NOT INCLUDE ANY LIVE MUSIC?
Possibly. If you have a musical performance that does not include anyone performing live music (e.g. a DJ), contact us directly to determine whether your act fits the MMD criteria.
CAN I HAVE MY EVENT INDOORS?
The MMD event is an outdoor celebration, however, due to rain, it may be moved indoors. Any necessary change from outdoor sites due to weather will be determined closer to the event date.
IS THIS AN ANNUAL EVENT?
Yes. MMDB will take place June 21 every year.
WHO PUTS THIS ALL TOGETHER?
Make Music Day Bethlehem is a nonprofit, volunteer-run network. Donations and sponsorship are tax-deductible through our fiscal sponsor, Bethlehem Events. The event is FREE and open to the public. Our gracious sponsors and individual contributions make it all possible. 
HOW CAN I GET INVOLVED AS A VOLUNTEER?
We will need volunteers in making preparations for the event and on the day of the event. If you would like to help us out, please visit our Contact Page. 
HOW CAN I DONATE TO MAKE MUSIC DAY BETHLEHEM OR BECOME A SPONSOR FOR THE EVENT?
We're glad you asked! As we expand and transform into an annual free cultural event, we need your continued support to keep it going. Make Music Day Bethlehem is a nonprofit, volunteer-run network. Donations and sponsorship are tax-deductible through our fiscal sponsor, Bethlehem Events. If your business would like to sponsor please check out our Sponsor page or contact us at bethlehem@makemusicday.org 
Thank you for your interest in Make Music Day Bethlehem.
Thanks to our Sponsors!
Thank you for your interest in supporting Make Music Day Bethlehem!
Make Music Day is a free, one-day event featuring live music performances, opportunities to make music and other musical activities that take place around the world on June 21, the longest day of the year. Musical festivities in Bethlehem are part of the global celebration of music making in over 800 cities inspired by France's Fête de la Musique.
Make Music Day Bethlehem is a volunteer-based, community nonprofit project started in February 2017 by a handful of volunteers and sponsoring organization Bethlehem Events. Our first Make Music Day event was held in 2018. The energy and financial support of the business community, coupled with the talents and interest of the vibrant music and arts community made Make Music Day Bethlehem a success on many levels.
We want to make this year's event even bigger. To help offset some of the necessary costs, such as permits, licenses, insurance, software, professional sound experts, event-related rentals, power generators, staging, performance equipment, promotional materials and outreach activities that comes with putting on an event throughout the community such as this, we need your support.
If you are interested in sponsoring Make Music Day Bethlehem, please contact us at:
Make Music Bethlehem
bethlehem@makemusicday.org
We appreciate your help and support bringing Make Music Day to the streets of Bethlehem and spreading the love of music in our community.
Make Music Bethlehem is a fiscally sponsored event through Bethlehem Events, Donations and sponsorships are tax deductible.