Make Music Black Hills is a live, free musical celebration on June 21, the longest day of the year, with concerts on streets, sidewalks, and parks across the city.


Last year, over 800 cities around the world threw citywide music celebrations on June 21.
It all started in France…
In 1982, Jack Lang and his staff at the Ministry of Culture dreamed up an idea for a new kind of musical holiday. They imagined a day where free music would be everywhere, all around the city: street corners, parks, rooftops, gardens, and storefronts.
And, unlike a typical music festival, anyone and everyone would be invited to join and play music or host performances. The event would take place on the summer solstice, June 21, and would be called Fête De La Musique. (In French, the name means both "festival of music" and "make music!")
Amazingly enough, this dream has come true. The Fête has turned into a true national holiday: France shuts down on the summer solstice, and musicians take over. Almost 8% of the country (5 million people) have played an instrument or sung in public for the Fête de la Musique, and 53% of the country (35 million people) comes out each year to listen.
Three decades later, the holiday has spread throughout the world and is now celebrated in more than 700 cities in 120 different countries.
Want to play? There's always room in the band.
We invite musicians, rappers, and instrumentalists of all kinds to collaborate on making June 21 a musical masterpiece. Singers, church choirs, jazz combos, rock bands, glee clubs, MCs, marching bands, mariachis, and every other kind of musician, of any age group or skill level, are all welcome.
More Artists and Venues will be added as we get closer to June 21st!
2021 Listings: Monday, June 21st
Make Music Black Hills
Schedule of Events
June 21| 11 AM – 4 PM
Hosted by the Allied Arts & the Rapid City Arts Council
713 Seventh Street
Downtown
We will have food trucks, instrument workshops, music lessons, giveaways, awesome live music from local bands, dancing and MORE!
Be sure to bring the kiddos out to celebrate the summer solstice and MUSIC!
7th Street Stage:
10:45 – 11:15 AM Rapid City Ranger Band
11:15 – 11:30 AM Nugget will join the Band to help lead our Drum Mass Appeal. The audience will join in and receive a free set of drumsticks.
11:30 – 12:00 PM Black Hills Drum Project
12:00 – 12:30 Joshua Simpson
12:30 – 1:00 PM Joshua will lead the audience in our Harmonica Mass Appeal. Free harmonicas and a lesson will be provided.
1:00 – 2:00 PM Bruce Neubert & Mark McFarland
2:00 – 3:00 PM Kim and the Cue Balls
3:00 – 4:00 PM Bodhi Linde
Dahl Arts Center Event Stage Schedule:
11:30 – 12:15 PM Averianna
12:30 – 1:45 PM Emerging Performing Artists
2:00 – 2:45 PM Cantio Flutes and Academy of Dance Arts
3:00 – 4:00 PM The Wake Singers
We have some awesome food trucks joining us from 11 – 4 pm in front of the Dahl Arts Center on 7th, downtown Rapid City!!!
The GREEN CHILI SHACK (Mexican), The Grasswagon (Smoothies, Fresh pressed juice and wellness shots), Mary's Mountain Cookies – Rapid City (Chocolate kits and cookie dough cups), Sergeant Poppers Kettle Korn and Lemonade, and Elenitsa's Greek Grill!!!
Yum! Don't miss out! #makemusicday #makemusicblackhills #free #kidsactivities #musiclessons #yamsessions #dancing #artists #vendors #foodtrucks #bettertogether
Join Us For Live Music & More!
Thank You To Our Sponsors!
"South Dakota Arts Council support is provided with funds from the State of South Dakota, through the Department of Tourism, and the National Endowment for the Arts."
Donations can be made through our Fiscal Sponsor's website:
February 20, 2016
Welcome to Make Music Black Hills! Make Music Black Hills falls on Father's Day! Treat your special guy! Hay Camp Brewing Company will be pairing this specially crafted brew with a Krispy Kreme Doughnut! Breakfast Pub is a cold brew coffee blendContinue Reading »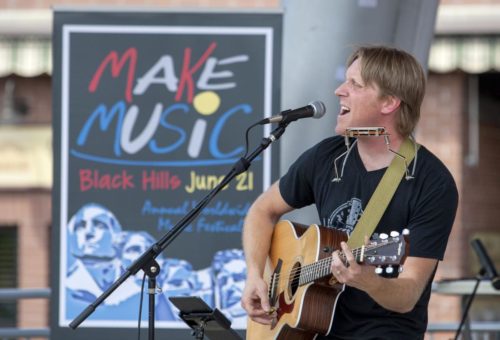 Congratulations to all who took part in another record-setting Make Music Day! More than 4,590 music-making events took place in over 2,200 locations around the U.S. on June 21, along with tens of thousands of musicians in 120 countries around the world who celebrated the day.
Read all about it, including new coverage in the Associated Press, CBS News, and USA Today!
2019 – National Coverage
"People Are Flooding the Streets in France for a Country-wide Dance Party – Here's How to Join in the Fun," by Evie Carrick, Travel + Leisure, June 21, 2019
"Annual Make Music Day brings concerts, jam sessions," Associated Press, June 21, 2019
Make Music Black Hills was featured several times in these national news stories!
2018 – National Coverage
"
Landmarks to glow orange in celebration of Make Music Day
,"
Associated Press
, June 21, 2018
"
Everybody's a musician on Make Music Day
,"
Associated Press
, June 21, 2018
"
Make Music Day celebrates the musician in everyone
," by David Morgan,
CBS News
, June 21, 2018
"
'This is the Dream': Jessica Keenan Wynn Makes Film Studio Debut in 'Mamma Mia! Here We Go Again'
," by Scott Gelman,
NBC News
, June 22, 2018
"
Where to celebrate 'Make Music Day' across the USA
," by Larry Bleiberg,
USA Today
, June 15, 2018
"
Fun, Free Things to Do in June Across the U.S.
," by Harriet Baskas,
Travel + Leisure
, May 31, 2018
"
'Make Music Day' Plots 4,500 Free Events, Concerts Nationwide
," by Jon Blistein,
Rolling Stone
, April 3, 2018
"
Make Music Day To Return This Summer With More Than 4,500 Events
," by Mackenzie Cummings-Grady,
Billboard
, April 4, 2018
Mark your calendars for next year's Make Music Day on

Friday, June 21, 2019

!
http://www.prnewswire.com/news-releases/announcing-make-music-day-2016—tuesday-june-21-300250924.html
"A free annual festival celebrating music and music-making," Associated Press, April 23, 2015
"On June 21, Celebrate Make Music Day," Wall Street Journal Live, June 19, 2015
"Make Music Day Plots 2,250 Free Concerts Nationwide," by Jon Blistein, Rolling Stone, June 18. 2015
"Chad Smith on Make Music Day," Late Night with Seth Meyers, June 15, 2015
"Jazz Lives At Duke Ellington's Resting Place," by Anastasia Tsioulcas, NPR Music: Jazz Night in America, July 2, 2015
"Your Creative Calendar: 91 Things to Do, See, and Hear This June," by Joe Berkowitz, Fast Company, June 5, 2015
"Sweetwater Takes Make Music Day to the Community," Making Music Magazine, June 11, 2015
Allied Arts Fund
GiGi Lage, Executive Director
(605) 394-4106
executive@alliedartsrc.org