Make Music Bridgeport is a live, free musical celebration on June 21, the longest day of the year, with concerts on streets, sidewalks, and parks across the city.

BRIDGEPORT CT: MAKE MUSIC DAY,  MONDAY, JUNE 21, 2020.
CELEBRATE COMMUNITY THROUGH A GLOBAL DAY OF FREE MUSIC.
Buskers flavor the lunchtime hours at popular eateries in downtown Bridgeport from 12-2 pm. Music curated by Ricardo Reyes of Savor City.
Enjoy something really wild, Flowerpot Music at the Beardsley Zoo from 1-2 pm.
Students of the Regional Ctr for the Arts perform this experimental piece and a set of Jazz standards.
Downtown free live music, lunch al fresco.
  Savor City Buskers curated by Ricardo Reyes
Michael Dunham, vocalist
Jazz, R&B, Funk, Motown, Pop, & Soul Grille II 1020 Broad St.
Nathan Perez Strolling Trombone
makes stops outside Funchal Americana,
Peoples Bank/Barnum Museum, and other locations.
Pick up lunch, brown bag it…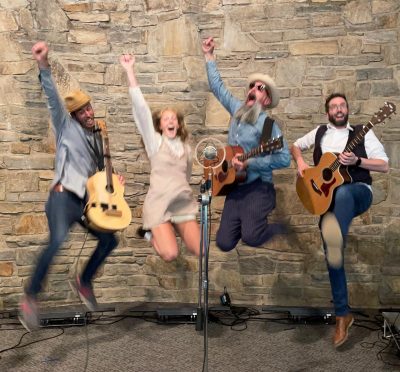 Everybody Wins, Daughter/Father duo,
A little Randy Newman with Maria Muldaur
originals, folk, originals, pop classics Broad St Steps, 265 Golden Hill St Matthew Detroy on keyboard Arcade Mall and Peacock Alley
FLOWERPOT MUSIC AT THE BEARDSLEY ZOO 6/21, 1-2pm
13 Students from the Regional Ctr for Arts under the direction of Anthony DeQuattro lean and perform a unique work composed specifically to be played on for flowerpots on the international day of making music Students will also perform a set of Jazz standards learned at RCA.
Bridgeport CT again joins the international Make Music Day community by participating in CT's 3rd statewide Make Music Day celebration (MMD-BPT).
Click the image below to view more Make Music Day Bridgeport content

Join us on the hour for music video feature at @BridgeportArtTrail, Facebook page from 10 a.m. to 10pm.
Fuzz Sangiovanni is mixing up a review of local music videos with greetings and comments from some of  Greater Bridgeport's favorite musicians. To provide relevant programming, along with great music, we encouraged artists to share their thoughts about current issues such as the Covid19 pandemic, staying creative and connected during the shutdown of music venues, and the raw tensions and inequities of racism and the struggle for social justice. The MMD-Bpt was designed to offer insight, hope, a musical respite and shared musical experiences and thoughts from artists of diverse backgrounds with different points of view.  Among the musicians to be featured are Caravan of Thieves, Mystic Bowie, Colorfields, Deep Banana Black Out, the Cosmic Jibarros, Hitch and the Giddy-Up, the Tom Tom Club and the Zambonisand Thomas Hooker School Rising Stars Productions. Tune into the Bridgeport Art Trail FaceBook page on the hour on Sunday, June 21, 2020, to enjoy some of your favorite local musicians.
Music from 2018, back for MMD-Bpt 2020
THANK YOU to Sponsors!!!  City Lights/Bridgeport Art Trail Thanks CT Office of the Arts for contribution and partnership for the 3nd Make Music Day-Bpt.
THANK YOU!!! To all the musicians and performers who donated their time and talent.
Community partners organizing the Make Music Bridgeport are City Lights/Bridgeport Art Trail,
SPONSORS:
Thank you to the Fairfield County Community Foundation
Although we need to be physically distant, let's stay socially connected. City Lights and Bridgeport Art Trail artists and partners look forward to when we can all celebrate and enjoy the arts, congregating together.
THANK YOU TO OUR MAKE MUIC DAT COMMUNITY PARTNERS WHO HAVE WORKED WITH US OVERTHE YEARS:
THE BIJOU THEATRE CT, WPKN RADIO 89.5 FM, LISTERNER SUPPORTED RADIO

MUSICIANS:
Click here to register. Local musicians of all ages and levels of experience can submit music videos for consideration. We are posting one video hourly so time slots are limited.  Contact us at clgallerybpt@gmail.com
VENUES: The only venue this year, @BridgeportArtTrail on Facebook.
Click here to register. Would you like to host a Make Music Day event? Musicians need a place to play, they will create an enjoyable atmosphere for your place of business, office or home. We appreciate your participation and will include your location in the Make Music Day promotion and schedule of events. Venues can range from stores, restaurants, front porches, parks, schools, and more.
Photo: Master drummer Asher Delerme teaches Bridgeport youth through Bridgeport Art Trail outreach programs.
Please support Make Music Day Bridgeport programs by contributing to City Lights/Bridgeport Art Trail. City Lights is the lead nonprofit organization of Make Music Day. Click here. Thank you!
Check out outreach programs facilitated by Bridgeport Art Trail artists, click here.
The City Lights mission is to serve the community through art. One of its signature programs is Bridgeport Art Trail comprised of a network of artists who once a year open their studio doors to host a city-wide arts weekend celebration. This year marks 10 years for the Bridgeport Art Trail, scheduled for November 7-10, 2019.
Find out more about the Bridgeport art scene www.bridgeport-art-trail.org
Questions, comments, suggestions?
Get in touch with us at City Lights/Bridgeport Art Trail contact us here or at clgallerybpt@gmail.com or 203.334.7748.
Photo: Left to right, Daniel Torres, Jordan Jancz, Rich Zurkowski, Rick Reyes perform during the 2017 Bridgeport Art Trail at the art studio of Meighan Morris in the NEST arts factory.