Make Music Burnett County is a live, free musical celebration on June 21, the longest day of the year, with concerts on streets, sidewalks, and parks across the city.
Make Music Day is a free celebration of music around the world on June 21st. Launched in 1982 in France as the Fête de la Musique, it is now held on the same day in more than 1,000 cities in 120 countries. Make Music Burnett-Polk County is celebrating its first year this June 21st, 2020. 
In Polk & Burnett Counties, we'll have performances in Frederic and Webster
Completely different from a typical music festival, Make Music Burnett-Polk County is open to anyone who wants to take part. Every kind of musician — young and old, amateur and professional, of every musical persuasion — pours onto streets, parks, plazas, and porches to share their music with friends, neighbors, and strangers. Jazz, Folk, Polka, Country, Classical, Rock, R&B, rap, children's groups, families, instrumentals,
sing- a-longs… etc Bring it on!
All of it is free and open to the public.
Singers & Musicians interested in performing on their own porches
are asked to contact us, so we can mention you on our site.
Please send a photo so we can add it to our photo gallery.
In Burnett County, please contact Harriet Rice, coordinator –   studionrthwds@gmail.com
In Polk County, please contact Nancy Buley, coordinator –  nancybuley@gmail.com
We have the safety of the musicians, singers and public in mind.
Please respect Safe Practices with Social Distancing and Face Masks.
WEBSTER PHOTOS 2020
CJLong- Belting out some vocals

Sarah & Dog Gone Fun

Spectators drove by on ATVs, Cars & bicycles

Gary Leer on guitar
FREDERIC PHOTOS 2020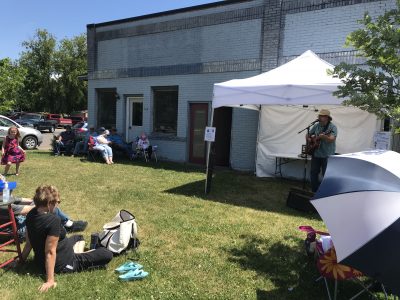 Crowd spacing at One 10 Gallery
Back Then at Traditions with Larry Petersen, Craig Draxten & friends
The gathering outside at Abbie Larson's home
Jay Stackhouse & Web Macomber at Frederic Arts
BT&Suz- Bryce & Sue Thomson at Frederic Arts
Frederic Arts AnnX for outdoor music, classes & more
Ethan Bergstrom at Frederic Arts
Lawn View from the stage- the Swongos at Frederic Arts
We'd love to get your feedback after this event.
We'd  consider expanding the program to include many more musicians from the different
communities in Burnett and Polk counties, but we would need more volunteers from each
community to help organize and promote the event.
Send us your comments and suggestions !
Plans for Make Music Day 2021 will depend on community response.
Harriet Rice studionrthwds@gmail.com in Burnett County
or Nancy Buley  nancybuley@gmail.com in Polk County
We look forward to bringing this celebration to our communities
and involving as many community members as possible.