This year on the Summer Solstice,Thursday, June 21, music lovers across our community are invited to enjoy free, live, outdoor performances during the first annual Make Music Day celebration in Cary.
Make Music Day is an annual worldwide celebration of music that takes place on the longest day of the year, June 21. Starting more than 35 years ago in France, cities imagined a day where musicians and music enthusiasts – of all levels, at any age – fill their city's neighborhoods and community spaces by playing and enjoying live, outdoor music for free. Celebrated in over 800 cities and 120 countries across the globe, this vision is now being brought to the Town of Cary!
Organized as a volunteer collective, the mission of Make Music Cary is to energize the Cary community by celebrating a shared love for music. We want music to permeate throughout the community and people to pour out into the streets to enjoy it. From bluegrass to hip-hop, Latin jazz to punk rock, singers, MCs, marching bands, glee clubs and any other music persuasions performed by musicians of any age and talent are welcomed. Whether jamming out with co-workers and friends or gathering your family and neighbors together for a fun-filled summer day, Make Music Cary is open to anyone who wants to take part, and enjoyed by everyone who wants to attend!
For more information on the history of Make Music Day, events, and other participating cities, visit the Make Music Day website.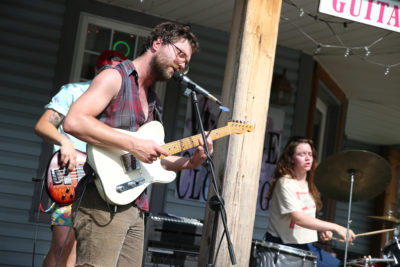 We invite all music enthusiast to collaborate in making Thursday, June 21 the livest celebration of music Cary has ever heard!
As a performer:
Musicians of any age, skill level, and musical persuasion are welcomed to share their creativity with the community. Simply create a profile by submitting a brief description of your act, photos, and relevant links to your music. Once registered, request a time and an available location to perform.
As a venue:
Performance locations do not have to be traditional music venues. Make Music Cary is about playing and enjoying live outdoor music in every corner of our community – from store fronts and driveways to neighborhood parks and community spaces. To host a performance, simply create a profile by submitting your availability, your location information, and a brief description of the space. Once registered, request a performance or independently welcome musicians.
Please feel free to contact us if have any questions about participating as a performer or venue. If you are a music teacher and would like to bring your students out to play together, if you would like to instruct a jam session or if you have an idea for a cool group event, please do not hesitate to let us know!
Cary Downtown Park, 6:45pm-7:30pm
This year Make Music Cary will be joining the epic, nationwide Mass Appeal project on June 21. In partnership with C.F. Martin and Co. (Martin Guitar) and Alfred Music, Mass Appeal brings together thousands of musicians – of all levels and ages – to make music in large, single-instrument groups. Around the country, guitarists of all levels will gather to play six classic songs and make music together. Free songbooks will be distributed so that everyone can play along.
This year's songs will include "Satisfaction," "House of the Rising Sun," "She Loves You," "Ghostbusters," and "If I Only Had A Brain."
We are pleased to announce that instructors from Bach to Rock in Apex will be leading our guitar Mass Appeal event! In addition to the songs provided in the song books, they will lead the group in other popular hit songs such as "Thunder" by Imagine Dragons and "22" by Taylor Swift.
Make Music Cary is about energizing the community by playing and enjoying live, outdoor music in every corner of our town! Enjoy images from other Make Music Day cities to get an idea of non-traditional music venues. Want to join the celebration? Click here to register!
If you are passionate about bringing the Cary community together through music and want to do more than perform, host, or attend Make Music Cary, we welcome you to join our volunteer collective!
Become a Volunteer
As a volunteer collective, we rely on volunteers at every stage of Make Music Cary. Therefore, to keep everything running as smooth as possible we need your help! Volunteer duties may include:
Answering performance/venue registration questions
Overseeing special Make Music Cary projects
Telling a few jokes
Helping with the setup/breakdown between performances
Answering questions the audience and participants may have
Spitting a few bars
Joining in on some air guitar jam sessions
Taking and sharing photos of your stationed event