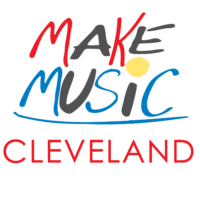 Make Music Day Cleveland is June 21, 2020!

Come out and play! Unfortunately, there will be no public events, due to COVID-19, but we invite you to make music for your neighbors!

#makemusiccle
Make Music Day Cleveland 2019 will feature collaborations with prominent local musical organizations emphasizing participatory music-making. Make Music Day's matchmaking software allows grassroots collaboration to develop up to the day of the celebration, but confirmed events to date include:
The Music Settlement/University Circle (11:00-12:00): North Coast Winds Summer Music Camp performance
State Theater Lobby (11:30-12:00): CIM String Quartet – welcoming delegates to Arts Education Day luncheon featuring MacArthur Award winner, Vijay Gupta
Van Aken District Market Hall (12:00-1:00): Blue Water Chamber Orchestra side-by-side reading. Click here to sign up to play!
Severance Hall (12:00-2:00): Instrument Discovery, P-Bone Workshop, and performances from Cleveland Orchestra musicians and guests
Rock Hall (12:00-2:00): Thor Platter band
Cleveland Clinic: 7 different lobby performances:

10:00-10:30 Virginia Crabtree and students, flute Karos Grand Lobby, Miller Pavilion, J Building
11:30-12:30 Charles and Kaitlin Klein, bass and violin Miller Rooftop, J Building
11:45-12:15 Kent Collier, cello and Gayle Getts, flute Crile Main Lobby A Building
12:00-1:00 The Big Finish Band Beck Center for the Arts Karos Grand Lobby, Miller Pavilion, J Building
12:15-12:45 Kent Collier, cello Crile Main Lobby A Building
12:30-1:30 Gayle Getts, flute Julia Sterbenz, flute Cole Eye Institute Lobby I Building
1:00-1:30 Ariel Karas and students, violin Great Hall Glickman Lobby Q Building

Beachland Ballroom and Tavern (1:00-4:00): School of Rock top bands afternoon performance
East Cleveland Public Library (1:30-3:00): P-buzz workshop with Rainey Institute faculty
ReFRESH Collective/Gordon Square (4:00-8:00): Open beat lab and performances
Dave's Market Cor. Chester/E. 61st (5:00-6:00): Broadway School of Music and the Arts Drum Corps performance
Cleveland Public Library – MLK Branch (4:00-6:00): Councilman Kevin Conwell & The Footprints
Baldwin-Wallace University North Quad (behind Ritter Library( (7:00-8:30): Sousapalooza! – Open reading of Sousa marches. Click here for more details and to sign up!
The Music Settlement/Bop Stop (7:00-10:30): Drop-in cello ensemble (bring cello – all welcome), and Paul Kovac Quintet
Bar 107/Berea (8:00-10:00): Cleveland Classical Revolution
The full schedule will be included in the "LISTINGS" section below soon!
2023 Listings: Wednesday, June 21st
Make Music Cleveland is an all day celebration of music! In 2019, the event returns to our city for the fourth year. From rock & roll to reggae, hip-hop to opera, musicians of all ages and playing abilities put on hundreds of free concerts, jam sessions, and other exciting events in public spaces throughout the city of Cleveland and surrounding area. All are welcome to participate- no experience necessary! Become part of a diverse community of musicians and join us in filling the streets and neighborhoods with music.
Make Music Cleveland is based on France's Fête de la Musique, a national musical holiday inaugurated in 1982. The festival has become an international phenomenon celebrated in more than 800 cities in 110 countries, including Germany, Italy, Egypt, Syria, Morocco, Australia, Vietnam, Congo, Cameroon, Fiji, Colombia, Chile, Nepal, and Japan.
All Instruments • All Genres • All Levels • All Ages • All FREE
Registration is now open! Click here to sign-up!
Make Music Cleveland is a celebration for everyone- from kazoos to the Cleveland Orchestra.
We're looking for artists to perform, venues to host, and volunteers to help make this the best celebration of musical culture ever. If you know a great band, a good location, or have friends who would want to lend a hand, please send them this way!
Who qualifies as an artist for Make Music Cleveland? You guessed it: everyone! At the heart of Make Music Cleveland is the desire to create safe spaces for anyone to share in the fun than can be had when people make music together. Artists of all ages, abilities and genres are encouraged to participate. Whether it's your cousin who plays the tuba, your neighbor's garage band, your school's drum line, your church choir, or your favorite DJ, anyone and everyone can join the music-making that is taking place around the world on June 21st.
Make Music Cleveland can be anywhere – from the illustrious concert halls, to the sidewalks, to an open space of a small business, to your own backyard! Any nook and cranny can be transformed into an unexpected, fun venue for live music! If you think you would make a good spot for some free, live music – whether you're a restaurant, a storefront, or just have a spacious front garden – sign up your space to allow artists to choose to play your space. With our matchmaking software, artists can request to play in your space, or you can search the Artist listings to make your own match…then invite your friends!
Make sure to tell your friends so they may see you perform or play with you! Don't forget to sign up.
Make Music Cleveland needs your support! We are currently looking for volunteers, sponsors and donors for the 2019 event.
All contributions to Make Music Cleveland are 100% tax deductible to the extent allowed by law.


If you wish to donate by mail, please send your check – made out to "Make Music Cleveland" to:
Make Music Cleveland
2617 Dartmoor Rd.
Cleveland Heights, OH 44118
For more information: cleveland@musicmusicday.org
Every Make Music Cleveland event is free and open to the public, thanks to the generosity of our sponsors and supporters.
Be part of the Make Music celebration on social media!
---
Make sure to tag your pictures with

#makemusiccle

on

Instagram, Twitter,

and

Facebook
'Make Music Day' 2019 Details Free Events, Concerts Nationwide
Cleveland Scene – May 16, 2019
Make Music Day Set to Return June 21
Cleveland participates in global celebration of making music on the longest day of the year
Completely different from a typical music festival, Make Music Day celebrates and promotes the natural music maker in all of us, regardless of ability. 2019 marks the fourth year that Cleveland will participate in the celebration. On June 21 every kind of musician – from bucket drummers and opera singers to hip-hop artists and marching bands – will pour into streets, parks, plazas, porches, rooftops, gardens and other public spaces to celebrate, create and share their music with friends, neighbors and strangers.
Make Music Cleveland invites everyone from professional musicians to people who have never picked up an instrument to join in the global music celebration. Individual and groups will be able to register as a performer on the Make Music Cleveland website, and your performance will be added to the schedule! Registration will open soon.
About the Make Music Alliance:
Make Music is a free celebration of music around the world on June 21st. Launched in 1982 in France as the Fête de la Musique, it is now held on the same day in more than 700 cities in 120 countries.
Completely different from a typical music festival, Make Music is open to anyone who wants to take part. Every kind of musician — young and old, amateur and professional, of every musical persuasion — pours onto streets, parks, plazas, and porches to share their music with friends, neighbors, and strangers. All of it is free and open to the public.
Everyone is talking about Make Music Cleveland!
Instagram Account: makemusiccleveland