Make Music Englewood is a live, free musical celebration on June 21, the longest day of the year, with concerts on green spaces throughout Englewood.
Make Music Englewood is a part of the international Make Music Day movement which brings free, community-wide, musical celebrations to hundreds of cities worldwide. Every year, the celebration is held on June 21, the summer solstice, in more than 800 communities around the world.
Make Music Day events are organized with, for, and by the community. We are inclusive to all kinds of performers and audience members. Events can happen in expected and unexpected places across the region, from sidewalks to community gardens, public parks to your front porch. Performers can live stream their concert live in-person or virtually from home.
Any musician–amateur or professional, young or old–is invited to take part. Likewise, businesses, neighbors, schools, churches, and organizations of all shapes and sizes can sign up to offer their outdoor spaces as concert locations.
Music Music Englewood intends to bring people together, boost creativity, and spread joy. Step into summer, reconnect with your neighbors, feel the music in you,  and let it out!
2023 Listings: Wednesday, June 21st
In its third year, Make Music Englewood will offer concerts at the Englewood Public Library lawn and Veteran's Park, and welcomes new venues with private outdoor spaces to register to participate (entities wishing to have events in public spaces will need to arrange for permits from the City of Englewood).
Use the links below to register as a performer, or to register as a venue.
 Click here to register as a performer            Click here to register as a venue
To create a profile, you will need an account:
Who else is taking part?
Over 13 artists, including:
Alexay Forest -- Born2Blend -- Bucket Drumming -- Dan Sheehan's The Seas Are Rising -- Deux Chez w/ Elad -- Faberg'e -- Kensemble -- Kurley Skeletons -- Maron/Theberge/Carter/Hawkins -- Metamorphic Winds -- Quinn Rose -- Stridulations -- The Crescent Kings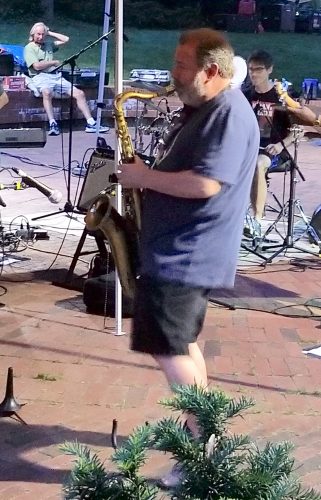 Official press release:
Free live music heats up Englewood
with Make Music solstice festival
Embrace the first day of Summer with the return of Make Music Englewood, a family friendly celebration of music featuring music makers from Bergen County and beyond.  Sponsored by the Englewood Public Library and the Englewood Parks and Recreation department, Make Music Englewood is one of three locations in New Jersey to participate in Make Music Day, a worldwide celebration held every June 21st in over 1,000 locations in 120 countries, modeled after La Fête de la Musique which began in the 1980s to showcase the rich musical culture of Paris.  The third annual Englewood edition will feature a main stage showcasing a melting pot of musical genres at the Englewood Public Library at 31 Engle Street between 12 and 10 p.m., as well as an additional performing area at Veteran's Park from 12-4 & 6:30-9:30 (tentative),  offering open access for musicians wishing to participate. Other venues are welcome to sign up as well!
Get in touch with us at englewood@makemusicday.org