Île de France – Paris
1. Ministère de la Culture – Palais Royal
Fête de la Musique 1985 au Palais-Royal. Photo : JP Masset
To celebrate the Fête de la Musique's 40th anniversary, the Ministry of Culture presents an eclectic program at the Palais-Royal beginning at 1pm.
To begin, employees of the Ministry of Culture will take the stage, followed by amateur and school musicians.
The rapper Sopico (an emerging name in urban music), Zaho de Sagazan and her electro songs with incisive lyrics, and vocal works by Maurice Ravel and Camille Saint-Saëns performed by the choir Les Métaboles, Marie Perbost and Nicolas Chesneau will follow.
Drummer/composer Anne Paceo, and Julien Clerc, an icon of French song, will perform, before leaving the stage to world music with DakhaBrakha, a group of Ukrainian musicians who mix traditional songs and current rhythms, and finally Temenik Electric and their transcendent Arabian Rock.
1:00pm – 2:15pm: Open stage for the agents of the Ministry of Culture: The agents have talent
2:35pm – 5:55pm: Amateurs and students
• 40 years of the French Youth Orchestra with Adèle Charvet, mezzo-soprano, and conductor Julien Chauvin
• Association Orchestre à l'Ecole: orchestra from the school of Rueil-Malmaison
• High school rock & jazz groups: Soulquake (Paris) and students from the Delacroix high school (Maisons-Alfort)
• Two brass bands from the Ecole Nationale Supérieure des Beaux-Arts in the garden and on the Bury plateau
5:55pm – 12:15am
Young musicians of today
• Sopico, rap / urban music
• Zaho de Sagazan, French chanson
Classical Music
• Les Métaboles chamber choir, conducted by Léo Warynski
• Marie Perbost, soprano and Nicolas Chesneau, piano
Jazz et French chanson
• Anne Paceo, drummer/composer
• Julien Clerc, French chanson
World Music
• DakhaBrakha, group of Ukranian musicians
• Temenik Electric, Arabian-rock music group
2. Institut du Monde arabe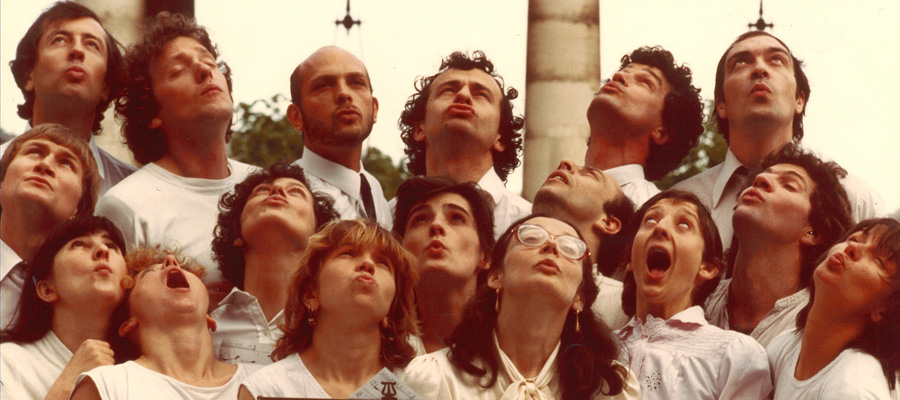 Photo: Concert de baisers, Fête de la Musique 1983
Kiss Concert, Nicolas Frize
Saturday June 18, 2022 | 8pm, 09pm, 10pm, 11pm
Recruited for the occasion, 150 kissing instrumentalists from the capital and all over Ile-de-France, carefully selected and rehearsed, will perform this exceptional work by Nicolas Frize, French composer, to celebrate the 40th anniversary of the Fête de la musique.
The work was premiered forty years ago at the courtyard of the Palais-Royal in Paris, twice, and has not been performed since then.
This anniversary is an opportunity to allow Nicolas Frize to go back on stage with his Kiss Concert, finding its place in the repertoire of works in constant search of new musical instruments making, and pay tribute to Fête de la musique.
Kisses, yes,
(stolen or gifted)
there are bass or treble,
long or short,
bright or sweet,
hard or soft,
puffs or glides,
staccatos or tremolos,
straight or wavy,
detached or linked,
dark or bright,
thrown or composed,
moderato or vivace,
strong or flown,
deep or affected,
wistful or distraught,
heavy or light,
deaf or whistled,
crazy and passionate…
3. La Cité de la musique-Philharmonie de Paris
Photo: DR
Block Party 360
Artistic direction by François Gautret (curator of the Hip-Hop 360 exhibition), with participation of DJ Idem, a presentation of Dandyguel.
6pm to 8pm
introduction to hip-hop dance (kids and adults) with Loïc from Légendes Urbaines and Gloria from Blue Monkey;
8pm to 10:30pm
set and DJ battle Old School/New School; DJ Idem VS DJ Glo: a participatory experience where the public is invited to be at the heart of a battle between two DJs who will impose their style in turn; dance performances by local groups (Espoirs 19, Thony Maskot School, Parquet Villette, Formless Corp dancers, spontaneous practices of 104, Maison du Hip-Hop) will punctuate the evening.
The musical street will be open on the SACEM square where speakers will be installed to broadcast the sound of the event outside as well as deckchairs and a bar.
4. Radio France – Le Char des 40 ans
A moving stage in the Radio France colors drives around Paris
3pm – at the base of the Statue of Liberty on Swan Island, in a nod to Make Music Day in NYC
Fanfare des Beaux-arts (brass band of the Paris School of Fine Art) & DJ Young Pulse
3:30pm – 4pm – Parvis de Radio France
Young Pulse and JackassBrass Band, New Orleans octet
5pm – 5:30pm – Olympia
a Ukrainian artist (to be confirmed) + Young Pulse
7pm – Institut du Monde arabe
Hey Bony – Naza / DJ Young Pulse
9pm – Place Monge – Arènes de Lutèce
Young Pulse / Abel Cheret / Bellette Brass Band / DJ Young Pulse
France Inter at the Olympia Hall
8:05pm : Franz Ferdinand
9:00pm: Benjamin Biolay
9:50pm: Pomme
10:35pm: Parcels
11:40pm: Angèle
FIP at the Arènes de Lutèce
6:30pm – 7pm: Emma Jean Thackray
7:20pm – 08pm: Laurent Bardainne and Tigre d'eau douce
8:20pm – 9:00pm: Bertrand Belin
9:20pm – 10:05pm: Ibeyi
10:40pm – 11:30pm: Metronomy
France Musique at Studio 104 of the Maison de la Radio et de la Musique starting at 8pm
Jackass Brass Brand
Hot Sugar Band
Paris Jazz Sessions
Les Yeux d'la tête
Pink Turtle
5. Chapelle Saint-Louis de la Pitié-Salpêtrière AP-HP

As part of the Fièvres musicales (piano and chamber music festival of the Pitié-Salpêtrière Hospital from June 20 to 25)
June 21 at 8:30pm – free but reservations required
The Ondes Plurielles orchestra, with François Pinel (conductor) and Pierre Fouchenneret (violin)
Brahms and Schumann
6. Sous la Pyramide du Louvre
Photo: Marco Borggreve
Orchestre de Paris; Klaus Mäkelä, conductor
10:00pm – free but reservations required
Anton Bruckner
Symphonie No. 9 in D Minor WAB 109
Back at the Louvre after several years absence, the Orchestre de Paris and its musical director Klaus Mäkelä will give a free concert under the Louvre Pyramid on the occasion of the 40th anniversary of the Fête de la musique.
On the program for this evening will be a universal masterpiece: Anton Bruckner's last symphony, a work left unfinished by its author and dedicated to God, which requires great means and great spaces to unfold in all its monumentality. A cathedral symphony for a glass cathedral!
In coproduction with the Philharmonie de Paris / Orchestre de Paris
7. Eglise Saint-Eustache

Festival 36 Hours Saint Eustache
Born 17 years ago, based on an idea from the parish priest, the Festival is a project supported by the parish community of Saint Eustache.
Folk, rock, electro, sacred music: for 36 hours, riffs and samples rub shoulders with choirs and organ in the church of Mozart, Lully, Rameau, Pierre Henry, Camille, Patti Smith, Keith Haring…
12am – Clara Ysé
1am – Blondino
2am – Form
8am – noon – Open stage
12:30pm – Mass
1pm – Stéphanie Acquette
2pm – 4pm – Conservatoire Mozart
4:15pm – Jeanne Gabrielle
5:15pm – Gisèle Pape + Grand Orgue
6pm – Messe
6:30pm – Kyrie Kristmanson
7:30pm – Chien Noir
8:30pm – Barbara Carlotti
8. Le Carreau du Temple – croisement rue Perrée / rue E. Spüller

La Fanfare Au Carreau
8:15pm – 9:30pm
This amateur brass band, in residence at the Carreau du Temple since 2015, now gathers about fifty musicians to play original compositions by Fidel Fourneyron, who also directs the ensemble. Meet this joyful band in the open air and always in great form for the Fête de la musique 2022!
Auvergne-Rhône-Alpes 9. Villeurbanne > Lyon

Faites de la musique
An extraordinary musical event. A large open and pedestrian stage, which will connect the two City Halls, on nearly 6.5 km of streets, which will vibrate to the rhythm of 800 events, concerts and shows planned.
On the occasion of Villeurbanne, French Capital of Culture 2022, the cities of Lyon and Villeurbanne are joining forces to offer you "the biggest music street" in France!
3 stages, 10 musical spaces, 2 spaces of wandering music on the Lyon side only…
Villeurbanne invites the inhabitants to take to the streets with their own instruments for a giant concert that will stretch over 6.5 km in a joyful procession between the town halls of the two municipalities. The idea is to find the founding spirit of this event initiated on June 21, 1982 by Jack Lang, then Minister of Culture. He will also be present at this 2022 edition!
In the afternoon, the great children's Charivari will bring together 800 costumed children with their instruments for "le cri de la Jeunesse" (The Cry of Youth). This contemporary work is defined as an "organized noise".
Between Cusset and Charpennes metro stations, all along the Cours Emile Zola, from 6pm, everyone will be able to go down the street, transformed into a giant, spontaneous and participatory stage. Hundreds of children from orchestras, choirs from the ENM (Ecole de musique de Villeurbanne) and dance classes will form groups and give concerts and shows between 6 and 8 pm. Current music groups will perform at the Quartz.
All evening long, one will be able to sit on the benches of the tables and to share the preparations and picnics that everyone will bring.
A children's village will propose readings of musical tales and a traveling "blind test" will meet people.
A great moment of celebration and meeting in which all, whatever their age, are invited to take part until the end of the night, in a joyful cacophony!
10. Lyon – Parvis de l'auditorium, Place Charles de Gaulles

L'Orchestre National de Lyon
at 9pm
A complete change of scene is guaranteed with the National Orchestra of Lyon, which will take us from Spain to Cuba, from the Moroccan desert to the Norwegian mountains, from American cotton plantations to the palaces of Kiev. A Fête de la musique full of rhythms and colors for this open-air concert!
To celebrate music, the National Orchestra of Lyon and Anton Holmer, its assistant conductor, will ride a magic carpet and take us across the planet. Peer Gynt takes us to the land of the terrible trolls and makes us experience a sumptuous sunrise in the Moroccan desert. The imperishable hits of Carmen plunge us into a Spain of fever and passion, mirrored by the charming and light-hearted Alborada by Ravel. And for the most frantic rhythms, we head for a fairy-tale Ukraine with Glinka, for Cuba with Gershwin and for the African slaves of South Carolina with Florence Rice's brilliant Juba Dance.
Program:
Mikhail Glinka: Overture to Ruslan and Ludmila
Edvard Grieg: "Morning" and "In the Mountain King's Den", excerpts from Suite No. 1 of Peer Gynt
Maurice Ravel: Alborada del Gracioso
George Bizet: Suite No. 1 from Carmen
Florence Price: "Juba Dance", from Symphony No. 1
George Gershwin: Cuban Overture
National Orchestra of Lyon, conducted by Anton Holmer
Pays de la Loire
11. La Ferté-Bernard
Photo : Francis Le Floch
Musical rides in electric boats and two songs for a sing-along at 7:30pm, place de la République
Nouvelle-Aquitaine
12. Saint Quentin de Baron

from 6:30pm
The association ART & EXPRESSION and the municipality of Saint-Quentin-de-Baron present 25 to 30 groups on 6 different stages in the village of the commune, just as they have since 1982.
On the occasion of its 40th anniversary, the Fête de la musique will once again rock the town of this small commune of Gironde, located 25 km from Bordeaux. Every June 21st, the town of 2,500 inhabitants takes on the appearance of a big festival for one day, welcoming thousands of people who come to celebrate music in all its forms. Saint-Quentin-de-Baron was one of the pioneers in the organization of the event. On June 21, 1986, Jack Lang, then Minister of Culture, made a stopover at the airport of Mérignac to take part in the Fête de la musique of Saint-Quentin-de-Baron. Since then, the success of the following editions has only grown, attracting more and more people each year.
Bretagne
13. Rennes – FRAC Bretagne & l'Orchestre National de Bretagne
Photo ©Frac Bretagne
from 12:30pm
To celebrate the 40th anniversary of the Fête de la musique, the FRAC Bretagne (Regional contemporary art museum of Bretagne) joins the National Orchestra of Bretagne in presenting the trio for violin, cello and viola by Jean Cras, performed by Nicolaï Tsygankov (violin), Clémentine Cômes (viola) and Timothée Marcel (cello). Jean Cras, a Breton composer from the early 20th century, was a jack-of-all-trades whose work, deeply rooted in contemporary research, was nourished by his many travels as a naval officer.
The FRAC Bretagne is particularly proud to participate in this anniversary. Indeed, exactly like the Fête de la Musique, the regional museums of contemporary art in France were born from the impulse of freedom and cultural openness initiated by the Ministry of Culture in the early 1980s. Like the Fête de la musique, they are places of popular celebration and decompartmentalization of creation, all creations.