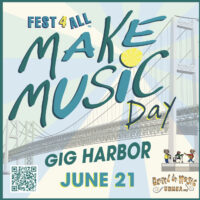 Make Music Gig Harbor is a live, free musical celebration on June 21, the longest day of the year, with concerts on streets, sidewalks, and parks across the city.
1:00P – OPENING MUSICAL CEREMONY
Official Welcome from City of Gig Harbor
Tribal Recognition
Pizza Box Drum Line (bring an instrument & parade with us)
NEW – 3:00p & 6:00p Drum Circle!

STAGE 1:5 PAVILION STAGE @ BLUE AGAVE
Entrance to Uptown Shopping Center
1:45-3:00P – Alejandro Fleites & Sin Embargo
3:30-4:30P – Octopus Ballet
5:00-6:00P – United By Music North America
6:30-7:30P – Billy Stoops & The Dirt Angels
8:00-9:00P – TwoMacs & Friends

STAGE 2:5 SHOWCASE STAGE @ GREEN.HOUSE
Sound Sensory Sensitivity Stage
2:15-2:45P – United By Music Trio: Nick, Willy & Sobie
3:00-3:30P – United By Music Duo: The Weddle Twins
3:45-4:45P – Sweet Mary Trio with Thea Wescott & Kathyanne Christine
5:00-5:45P – LaZe – Matt Lawerence & Mark Zenobio
6:00-6:45P – Lawrence Lambert aka Pearls & Elaine Dempsey

STAGE 3:5 FRONT PORCH STAGE @ FONDI
2:00-2:40P – Kiel Scott
2:50-3:30P – Robbie Vee
3:40-4:20P – Luke Stanton
4:30-5:10P – Ross Robinson
5:20-6:00P – Josh Brulotte

STAGE 4:5 BACK PORCH STAGE @ LELE
4:00-5:15P – Jack Parker
5:30-7:00P – Kim & Brian
7:15-8:30P – Rob Tudor & Dave McKibbin

5:5 SPOTLIGHT STAGES
Open Mic @ Galaxy Theatre
2:00-2:10P – Sweet Mary
2:15-2:30P – Allie Buchanan
2:40-3:00P – Kevin Cummings
3:10-3:30P – Kate States
3:40-4:00P – Matt Ralston
4:10-4:30P – Andy Rebsamen
Performance Bands and Musicians, sign up now to stream yourself! Space is limited.
2 TUNES or 10 MINUTES
To sign up, email your name and phone number to BarbaraHammerman@gmail.com
---
Parade and Volunteer Members, please contact: BarbaraHammerman@gmail.com
VOLUNTEERS
Roadie for a Day
Hospitality
Sanitary Station
PIZZA BOX DRUM LINE & PARADE
Bring Your Own Instrument!
Pizza Box Drumming
Percussion
Acoustic Instruments
Pan Yard Play Yard – Jumbie Jams Steels Drums
New Drum Circle

If you would like to see the continued celebration and unity of music, consider supporting us!
Follow us on Facebook and donate to United by Music North America. Fest4All is funded in part by Creative Endeavor Grant of the City of Gig Harbor.
Imagine a world in which no prejudice exists based upon race, creed, color—or intellectual capacity. That is the world that we at United by Music North America, and our growing support base, envision. In our case, we have turned to the power of music to bring people together.