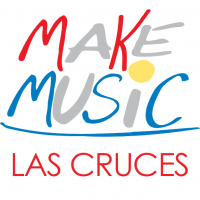 Make Music Las Cruces is a live, free online musical experience on June 21, the longest day of the year, with music on Facebook Live, Instagram and Twitch. Outdoor events subject to state guidelines.
REGISTRATION IS NOW OPEN UNTIL  JUNE 21,2020
OPEN CALL:
ASPIRING, AMATEUR, HOBBYISTS, STUDENT, PROFESSIONAL -MUSICIANS,
MUSIC/ ARTS VENUES AND ORGANIZATIONS
SOUND ARTISTS AND MUSIC TEACHERS
PERFORMING ARTISTS
READ MORE, HERE.
Are you a musician who performs gigs around town?
A student in a local high school marching band? Or are you an amateur looking to improve your craft? Here's your chance! We want your participating in Las Cruces' first Make Music Day celebration
In light of current events, we are focusing on virtual performances that we can post on social media and the more the merrier.
If you are interested in participating in this year's festivities, please REGISTER here.
Step 1: Create a profile.
There are 2 options.
1)Performer
2)Venue(Local Presenter).
Venues need prior approval from Make Music Day to register for logistical and technical reasons.
Once venues are approved, only they can 'match' with performers and create an event in the system.
Venues are requested to email prior to registration.
Step 2: Make sure to include:
links to video, live stream
availability
performance length
all social media and social networking platforms
include a photo and bio
hashtags, mentions
group members
Step 3: Look in your email, spam folder, if you do not receive confirmation of your registration.
Step 4: Wait for Make Music, Las Cruces to approve your registration.
Step 5: Create a plan of how you want to produce, promote and distribute your performance(s)
The more you add, the more we can promote your venue, or performance.
Email if you have comments or questions.
Know someone who would be PERFECT to perform? Send us a quick email or a message on Facebook and we'll thank you for the referral.
#BEDROOMSTUDIOS
For the past six years, open-air recording studios have appeared on sidewalks in cities around the world on June 21st to celebrate Make Music Day. In these Street Studio Cities, pioneered by Found Sound Nation and Harman, world-class DJs and producers invited passers-by to contribute to a spontaneous music production session, using only the audio recorded on the spot.
This year, while people around the world are staying safer at home, producers will continue this tradition with Bedroom Studios – live-streaming their production process from home, while creating a collaborative track with short audio clips sent in by viewers.
Bedroom Studios will offer a window into music production, and the challenge of producing with completely unknown inputs, bringing music makers together from bedroom to bedroom. For more information click here
#GLOBALLIVESTREAM
On June 21, music rings out simultaneously across more than 120 countries. Whether you are beneath a skyscraper in Beijing or along the shore of a small Greek fishing village, you will find people making music.
In 2020, for the second year, the Make Music Alliance is organizing a day-long video stream on June 21 showing the rich diversity of Make Music Day events around the world.
Check our WWW.MAKEMUSICDAY.ORG for the stream from 9am – 11pm Eastern Time
#LIVE FROM HOME
In partnership with Make Music Australia and Make Music China, the Make Music Alliance invites everyone to record and post a musical performance from home on June 21, and tag three friends to challenge them to do the same.
Some of the artists performing "Live From Home" on Make Music Day will include:
It couldn't be simpler. Just use the hashtags #livefromhome and #makemusicday when you post!
Local Presenters
F.A.Qs-
How can I watch Make Music Day, Las Cruces?
You can watch MMD, Las Cruces, as well as many cities, from around the world as amateur and professional musicians perform using live streaming platforms, including Facebook (Watch Party), Instagram (IGTV), You Tube (Premiere Feature). If you don't know how to live stream  you can attend one of our trainings
Wednesday, June 17, NOON
Friday, June 19, NOON
or email lascruces@makemusicday.org
Where  and how can I connect to the festival?
There are many ways to engage with Make Music Day, Las Cruces
Watch for our Schedule listing on this page up to June 21 for new performers and click on the links at the time of the show.
Rio Grande Theater and Visit Las Cruces will  feature Facebook  posts and Watch Parties here: https://www.facebook.com/LCRGT/
https://www.facebook.com/lascrucescvb
Check out our embedded You Tube Channels in our WATCH section above the listings.
Search #makemusicdaylascruces
If you see you video or a friends video feel free to repost on social media. Be sure to mention our handle @makemusiclascruces
What if I decide at the last minute I want to register and perform?
1. Registar at las-cruces.makemusicday.org
2.Post your videos, photos and sound clips to your facebook and mention:
@makemusiclascruces #makemusicday #lascruces
3. Host a Facebook Watch Party, invite your friends and ask them to invite their friends.
MAKE MUSIC DAY LAS CRUCES
Las Cruces NPR Affiliate, KRWG

June 12, 2020:
Las Cruces, Bulletin
December 20, 2019:
Make Music Day is celebrated on June 21st Summer Solstice in 26 states in the U.S. and across the globe from France, where it began, to South America, Australia, and China. This is a holiday that anyone can celebrate, is now  in over 30 countries worldwide. As a community, we can participate in our love of making music together.
Until this year, the celebration has not been observed in New Mexico.
The Las Cruces Make Music Day organizing team is preparing our inaugural event on June 21st 2020.
Make Music Day is not quite a music festival, because it's not confined to one location. And it's not completely "organized,"
since musicians don't need official permission to perform in public.
As Aaron Friedman, executive director of the Make Music Alliance says, "Make Music Day is kind of like Halloween for music
– a day when regular folks are given permission to get out in the streets and share their love of music."
Stay tuned to this page and our Facebook page to learn more!