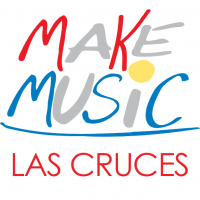 Make Music Las Cruces is a celebration of all things music in collaboration with International Make Music Day, every June 21st. Join us by viewing a performance or demo or creating your own music!
Registration is now closed for Make Music Day 2021. Please see us again in 2022.
FILL OUT GEMINI MATCHMAKING (FOR VENUES & PERFORMERS), HERE.
Email if you have comments or questions.
Know someone who would be PERFECT to perform? Send us a quick email or a message on Facebook and we'll thank you for the referral.
For 2021, there are some amazing new national and international offerings. Click below to learn more!
#GLOBALLIVESTREAM
On June 21, music rings out simultaneously across more than 120 countries. Whether you are beneath a skyscraper in Beijing or along the shore of a small Greek fishing village, you will find people making music.
In 2021, for the third year, the Make Music Alliance is organizing a day-long video stream on June 21 showing the rich diversity of Make Music Day events around the world.
Check our WWW.MAKEMUSICDAY.ORG for the stream from 9am – 11pm Eastern Time
2021 Listings: Monday, June 21st
Make Music Day (MMD) is a free celebration of music around the world on June 21st. Launched in 1982 in France as the Fête de la Musique, it is now held on the same day in more than 1,000 cities in 120 countries. What makes this different than other music festivals is the fact that it is a day that encourages planned and impromptu gatherings centered around a love of music. That means that you do not have to be a trained musician to participate; this is a day to get out and make some noise any way you would like!
The Make Music Day – Las Cruces Chapter was established in Fall 2019 to plan the City's inaugural MMD celebration for June 21, 2020. This was the first chapter established in New Mexico and the borderplex region. Representatives from local music organizations, the Range, Doña Ana Arts Council, and Visit Las Cruces began planning, scheduling, and coordinating a full day of fun activities centered around the joy of music. And then the global pandemic struck, canceling all in-person gatherings.
The MMD-LC chapter quickly regrouped and organized a virtual experience for participants to learn more about Make Music Day and still celebrate the importance of music in our collective lives. Streaming across multiple platforms, MMD-LC 2020 had over 50,000 views combined throughout the day. This included performances by local bands, El Paso Pro Musica, the Santa Fe Opera, and much, much more. MMD-LC was even featured in the Global Live Stream for international Make Music Day showcasing our local talent on the world stage.
As we lift more restrictions in Doña Ana County, the chapter is planning a hybrid event and is looking for musicians, music teachers, community organizations, and volunteers to help make this year's second-annual celebration one to remember. Fill out the interest form at: https://forms.gle/PLkVaiWF7dvfsJS48 and a chapter member will contact you with next steps.
Stay tuned to this page and our Facebook page to learn more!
2021 Press Links: