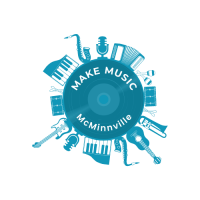 Make Music McMinnville is a live, free musical celebration on June 21, the longest day of the year, with music opportunities in multiple locations across our town.
On June 21, 2023, the Summer Solstice, McMinnville will be hosting our second annual celebration of Make Music Day.
And you are invited to the party!
Make Music McMinnville is a musical celebration creating community events that are open to anyone; players, singers, listeners, beginners looking to be inspired, people who are willing to share their inspiration with the world.  Every place, performer, and person of every stripe has a part to play in Make Music McMinnville.
While it is an international event, the communities involved have a localized focus, with music-related activities taking place in multiple locations in the community. Launched in 1982 in France as the Fête de la Musique, Make Music Day it is now held on the same day in more than 1,000 cities in 120 countries.
Completely different from a typical music festival, Make Music McMinnville is open to anyone who wants to take part. Every kind of musician — young and old, amateur and professional, of every musical persuasion — pours onto streets, parks, plazas, and porches to share their music with friends, neighbors, and strangers.
The ultimate goal is celebrating our community through music, in a way that is accessible to musicians and non-musicians alike. All of it is free and open to the public.
Why participate in Make Music McMinnville? 
Make Music Day brings joy, inspires creativity, and transforms communities. It celebrates and promotes the natural music maker in all of us, regardless of ability. Make Music Day events turn sidewalks and streets into impromptu stages; let amateur musicians share their passion and gain confidence; and give established artists in all genres a chance to perform for new audiences.
You, too, can participate in Make Music McMinnville.
Make Music Day has already come and gone this year, but let us know if you want to host music activities next year.
If you'd like to volunteer to help with next year's celebration, contact us.
Do you manage a community space, church, storefront, restaurant, or business with space to showcase a performance? Perhaps you have a fabulous farm, a welcoming front porch, or a generous garden. If this is you, you're invited to host, in celebration of next year's global Make Music Day's 41st year!
Please note: All events associated with Make Music McMinnville must be free and open to the public.
Contact us to sign up to be a venue for next year's celebration.
Hosting a line-up of performers is not the only way to organize music activities for Make Music McMinnville.  Other ideas include:
Invite your customers or community groups to participate in a public, hands-on, music-making event at your business or at a local park.
Host an outdoor drum circle.
Teach first-time musicians how to play the ukulele or harmonica, virtually or in person.
Host an outdoor guitar strum–along for customers and community members.
Invite musicians to meet up outside a local nursing home and play "window serenades" to those inside.
Host a day of outdoor concerts/showcases/open mics for the lesson-taking students in your community.
Many thanks to our 2022 sponsors!
Make Music McMinnville was a brand new event this year, and we would not have been able to get this project going if it weren't for the generosity of our sponsors.
Thank you, Arts Alliance of Yamhill County, Oregon Stationers, Knights of Pythias McMinnville Chapter, and Donna Mallory.

Are you interested in volunteering?
We are a small team and are just getting started.  We could use a few more folks to round out our planning team.  And as we get closer to Make Music Day, we will need help before and during the event.
We need sponsors for 2023!
Make Music McMinnville's second year is going to be a blast!  Help us to make this event the best it can be by becoming a sponsor or partner.  Any donations, either in-kind or monetary, can help us to offer more musical experiences.  Contact us to share your ideas about how to get involved, or to make a donation.