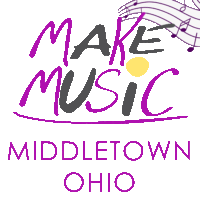 Make Music Middletown is a live, free musical celebration on June 21, the longest day of the year, with concerts on streets, sidewalks, and parks across the city.
Make Music Middletown is a City wide event! There will be a lot of live music happenings in our downtown area with group lessons AND resources to help you learn about making music! We encourage everyone to participate and help make this event full of Middie Pride! The Broad Street Bash and Lester's Rock N Roll Shop have teamed up to bring Make Music Day to Middletown, Ohio! We look forward to seeing you, or better yet- hearing you!!!
This is a great way to showcase all of the talent we have in town and we NEED YOU!!!
Would you like to perform or maybe do a demonstration on an instrument? Please click the link below and sign up as a performer. If you are a business and would like to host, please click the link below and sign up as a "venue"
https://matchmiddletownoh.makemusicday.org/
*Please note that no performance this year, will be plugged in.
*All events will take place outside
*In the event that there is rain, all events will be cancelled unless a business owner contacts you personally to make other arrangements.
We look forward to hearing you!!!!
Who else is taking part?
Over 0 venues, including:
2023 Listings: Wednesday, June 21st
Make Music Day Middletown is brought to you by the Broad Street Bash. All donations are tax deductible and a receipt will be provided upon delivery. We appreciate your support!
Please contact us at middletownoh@makemusicday.org with any inquiries!
Thank You!