Schedule
Flowerpot Music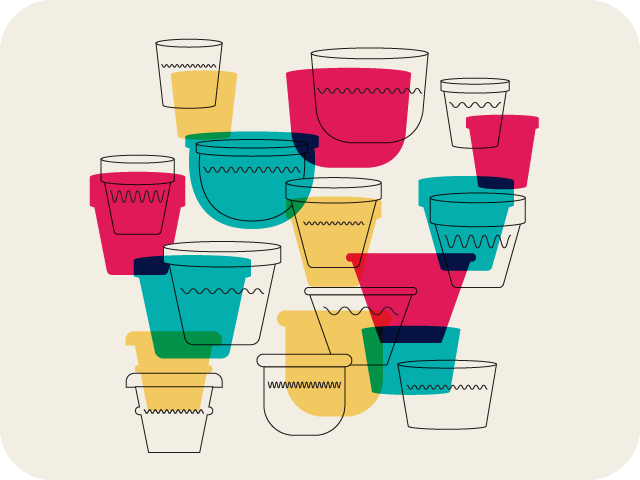 Music on June 21 can come from anyone, anywhere, and anything – even flowerpots.
Flowerpot Music, written by celebrated composer Elliot Cole and directed by percussionist Peter Ferry, is a composition for an unlikely but beautiful percussion instrument – the flowerpot! Join a group and create outdoor soundscapes through easy-to-learn games, appropriate for musicians and non-musicians alike.
On June 21st, groups around the world will assemble in parks, fields and public squares, with safe social distance, to learn and then premiere the piece, specially composed for Make Music Day. See below for the full list of premieres!

FULL SCHEDULE
FLAGSHIP PREMIERE: BROOKLYN, NY (The Nethermede at Prospect Park) – 7:30PM*
REGISTER HERE to participate in NYC!
Interested in joining any of the performances below? Reach out to jonah@makemusicday.org to be connected with the leader!


Albuquerque, NM
(Hyder Park)
– 11:15 AM
*
Anderson, IN (Fine Arts Breezeway, Butler U) – 7:30 PM
Austin, TX (Dimension Gallery Sculpture Garden) – 7:00 PM
Belo Horizonte, Brazil
Birmingham, AL (Rhodes Park) – 5:30 & 7:00 PM
Bridgeport, CT
(Beardsley Zoo)
– 1:00 PM
*
Changzhou, China
Chattanooga, TN (Coolidge Park) – 7:00 PM
Chesterfield, MO – private performance
Chicago, IL (Horner Park) – 7:00 PM
Denton, TX (Denton County Courthouse Lawn) – 2:00 PM
El Paso, TX
(Keystone Heritage Park)
– 2:15 PM
*
Flagstaff, AZ (Thorpe Park) – 5:00 PM
Fort Worth, TX (Trinity Trails Park) – 11:00 AM
Green Bay, WI
Greensboro, NC (Governor's School West @ High Point University)
Greenville, OH (Greenville Public Library) – 11:00 AM
Hartford, CT
(The Free Center)
– 2:00 PM
*
Hesperange, Lux. (Parc de la Commune) – 7:00 PM
Houston, TX
(Houston Botanic Garden)
– 12:00 PM
*
Indianapolis, IN (Garfield Park)
Interlochen, MI (Interlochen Center Main Campus) – 12:00 PM
Knoxville, TN
(Claude Walker Park)
– 6:00 PM
*
Lancaster, PA (Binns Park)
Lincoln, NE (Union Plaza) – 7:00 PM
Madison, WI (Vilas Park) – 11:00 AM
Marshfield, WI (Chestnut Center for the Arts)
Miami, FL (Shenandoah Park) – 6:00 PM
Montclair, NJ (Crane Park) – 11:00 AM
Moorhead, MN (Campus Mall, MSU Moorhead) – 6:30 PM
Nashville, TN
(Shelby Park Nature Center)
– 11:30 AM
*
Northfield, MN
Oklahoma City, OK (Scissortail Park) – 5:00 PM
Perth, Australia
Philadelphia, PA (Bartram's Garden) – 7:30 PM
Phoenix, AZ (Sunshine Sunflower Pottery Studio) – 11:00 AM
Portland, ME (Moon Tide Park) – 7:00 PM
Portland, OR – private performance
Providence, RI (Lippitt Memorial Park) – 3:00 PM
Provo, UT
San Diego, CA (Kate Sessions Park) – 6:00 PM
San Francisco, CA (Palace of Fine Arts) – 7:30 PM
Seattle, WA
(Volunteer Park)
– 7:00 PM
*
St. Louis, MO (Tower Grove Park) – 6:00 PM
Stamford, VT
Stratford, CT (Sterling House Community Center) – closed performance
Tacoma, WA (Point Defiance Park Rose Garden) – 7:30 PM
Taoyaun City, Taiwan (Phonon Music)
Windsor, Ontario (Willistead Park) – 8:00 PM
Balter Mallets for Flowerpot Music generously provided by:

* These performances generously supported by the Music Performance Trust Fund


2020: A Look Back
In 2020, when the original plans for the premiere were upended by the COVID-19 pandemic, Cole and Ferry created a special online version of the composition. Performances by over two dozen groups from around the United States were live-streamed continuously for 9 hours on June 21st. Here's a glimpse of the performance!
Elliot Cole, Composer

Elliot Cole is a composer and "charismatic contemporary bard" (New York Times) whose music "evokes sparkling icicles of sound" (Rolling Stone). He has performed his music with Grammy winners Roomful of Teeth, Grammy nominees A Far Cry and Metropolis Ensemble, as well as Alkemie Early Music Ensemble, Projeto Arcomusical, the Lucerne Festival Academy, and as a member of the book-club-band Oracle Hysterical. His percussion music has been performed by over 250 percussion ensembles all over the world. He is on faculty at The New School and Juilliard Evening Division, and also runs a music school for incarcerated men at Sing Sing Correctional Facility in Ossining, NY.

Peter Ferry, Artistic Director

Acclaimed as "the ingenious percussionist Peter Ferry," (Chicago Sun-Times), Peter Ferry is a young American percussion soloist re-imagining classical performances around the world through contemporary repertoire projects and innovative artistic collaborations. Ferry has been a guest artist at dozens of universities as well as the Zeltsman Marimba Festival in New Brunswick, NJ, and has stepped in as a guest percussionist with acclaimed ensembles Alarm Will Sound, Third Coast Percussion, Ensemble Dal Niente, and Eighth Blackbird. With Alarm Will Sound, Ferry serves as the Assistant Director of Artistic Planning, envisioning and managing the artistic activities of one of the world's leading contemporary music ensembles.