Make Music Day 2022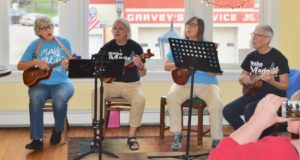 Make Music Platteville is an annual one-day citywide, free, outdoor day of music held on the summer solstice, June 21. This year marks Platteville's sixth year in the international summer solstice music celebration. We join over 1000 communities around the world in kicking off summer by filling the city with music. Make Music Platteville will turn backyards, front porches, museums and parks into a virtual stage, and offer a full spectrum of performers the opportunity to display their musical skills.
2021 provides us with outside performances!  Check our "Participate" page.
What is Make Music Platteville?                                            
Make Music Platteville is: Performed by Anyone, Enjoyed by Everyone
A way for all of Platteville to celebrate the summer solstice, enjoying the longest day of the year, while sampling a buffet of musical merriment.
A DIY city-wide celebration when almost any way to make music can and will happen.
Make Music Platteville is open to music makers of all ages, skill levels, and musical persuasions.
When will Make Music Platteville take place?
Make Music Platteville will take place on the summer solstice, Monday, June 21, 2021. 8:00 am-8:00pm
12:00 This Moment In Time-will be a special gathering to honor and remember those that have been affected by COVID 19. Plan to play the gong at The Mining & Rollo Jamison Museums for this special program. We will feel the vibrations over the hour in this solemn moment.
How do I register as an artist or venue?
Registration information found HERE.  You will need to create an account and accept the terms of agreement. You may still register, but publicity deadline has passed.  Please share your videos to #makemusicday, #makemusicplatteville
If you are an artist looking to register for Make Music Platteville, you will be taken to our registration platform.  Be sure to register your 'stay at home' music events to be included in the publicity. Deadline for registration is June 8.  We are all in this together!
.Photos courtesy of John Urness 2019
* FOLLOW us on Instagram – @MakeMusicPlatteville
* Tag your posts with #makemusicplatteville #makemusicday #musicISlife #blacklivesmatter
Photo courtesy of John Urness
Platteville Holiday Inn & Suites