Make Music San Diego is a free annual celebration of music on June 21 every year! Check out all the 2019 events on our Facebook page:

www.facebook.com/pg/makemusicsandiego/events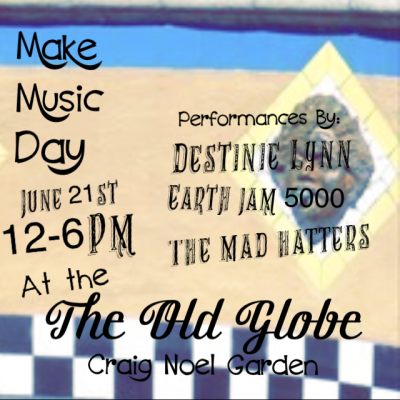 Make Music San Diego is an annual free day of music held on the summer solstice, June 21. All of it is free and open to the public. The event will begin at 12 noon at Balboa Park on Friday, June 21st and go until 8pm.
When we say, Performed by Anyone, Enjoyed by Everyone, we really mean it. Join in one of our mass appeal events designed to bring together dozens — no, hundreds — of artists to perform pre-selected pieces together. All ages, all genres, all free! Come on down and get in on the action!
Get in touch to learn how you can participate in this year's Make Music Day San Diego 2019 as a facilitator, solo artist or with your band, your music group, your friends, your family, your school, your organization, your church community or your business!   There is room for EVERYONE to be a part of Make Music Day in some form.
We are actively looking for sponsors, venues, musicians and enthusiasts, and fellow organizers to make this year AMAZING!  We look forward to creating a great event with all contributors coming together in San Diego on June 21st!
Contact: sandiego@makemusicday.org
A hearty thank you for all the amazing sponsors below in helping to bring Make Music Day to life!