Make Music San José is a free community-curated celebration of music held on the summer solstice. We look forward to celebrating with you again next year on June 21, 2022.

#makemusicsanjose
Celebrated on June 21, Make Music San José coincides with festivities in more than one thousand cities worldwide as part of Make Music Day. The whole idea for the day is to share the joy of making music with everyone that wants to take part, from professional to amateur musicians, as well as the musically curious.
Typically we celebrate with performances and play-along events at venues throughout the city. This year, as we move back to a full-reopening, the celebration will be online with limited in person events. 
Being a part of Make Music San José locally, and Make Music Day globally, is an opportunity for us to come together in spirit and celebrate the music that brings us joy.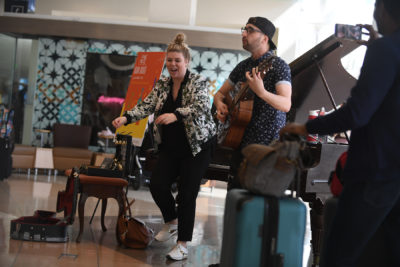 Join the Celebration!  
Make Music San José 2021 was celebrated as hybrid event on June 21 with virtual and limited in-person performances. Thank you to all of the performers and partners that made this celebration possible. Check out the listings to see the 2021 participants https://www.makemusicday.org/SanJose/listings
Join us in 2022
As we return to a new normal, we look forward to celebrating Make Music San José with more in-person performances and participatory events citywide.
Registration for Make Music San José 2022 will open in March 2022. Stay tuned!
Make Music San José is a community curated celebration of music featuring a wide array of artists from amateur to professional and a diverse range of musical styles. To facilitate the broad participation of performers for the online portion of Make Music San José, each performer is sharing their own content using their own social media and/or meeting platform. These platforms may include YouTube, Facebook, and Zoom, among others. The content shared by the performer on Make Music San José's online event is solely the responsibility of the performer and not that of Make Music San José and the City of San José Office of Cultural Affairs.
2021 Listings: Monday, June 21st
Activities for Kids
In honor of Make Music San José 2021, our friends at the Children's Discovery Museum have designed some new at-home music-themed activities for kids.  Visit the Virtual Purple Museum for more activities. Tag your creations and experiments: #VirtualPurpleMuseum  #PurpleMuseumCreations   #MakeMusicSanJose
Bilingual Storytime: The Life of / La Vida de Ritchie Valens
Author: Patty Rodrigues & Ariana Stein, Illustrator: Citlali Reyes
Join us for a lively bilingual Storytime about the life of musician Ritchie Valens. He was a famous Mexican-American singer, songwriter, and guitarist who was just a teenager when he became a musical smash sensation with his band, The Silhouettes. Let's celebrate music together!
Discovery Time: Musical Rhyme and Song Time
Have you joined us for a Musical Rhyme & Song Time? This special singalong time is for babies, toddlers, and preschoolers. Let's sing together and do fingerplays about friendship, love, and appreciating one another.
Materials Needed: Bring your favorite stuffy!
We've compiled the lyrics to the songs we explore, so you can sing along again and again! Follow along with our activity sheet.
Discovery Time: Water Xylophone
Did you know you can use water to make music? Together, let's experiment with color and water as we make a homemade xylophone. Learn about pitch and how we can adjust it to create different sounds and tones to make a song!
 Materials Needed: Five identical clear glasses, food coloring (red, blue and yellow), water, measuring cup, and spoon (wooden, metal, or plastic)
 Follow along with our activity sheet to get the most out of this engaging lesson. 
Documentation of past Make Music San José celebrations below:
As part of the Street Studio event, San José producer Rey Resurreccion created an original song from samples gathered from the public in front of Circle A Skate Shop on Make Music San José 2019. Listen to the song he created. 
About Make Music Day
Participate
Other Important Information to Note
What is Make Music Day?
Make Music Day is a free celebration of music around the world on June 21st, the summer solstice. Make Music San Jose is the local San Jose celebration.
Make Music Day is open to anyone who wants to take part.
Today, Make Music Day is observed on the same day in more than 1,000 cities around the world. It is the world's largest annual music event.
At what time do events take place?
In 2020, events will take place online from 12:00 noon to 6:00 pm on June 21. Please refer to the listings for specific event times.
How will the virtual Make Music San Jose work?
Make Music San Jose will set up an event portal featuring different channels. On June 21, the portal will go live. A visitor to the portal will be able to click on the channel of their choice and will be able to link to the performance/event happening at that moment. 
The link is provided by the performer/instructor. A Make Music San Jose website administrator will connect the link to the channel at the time of the performance. 
Channel host/curators are responsible for coordinating with the performers/instructors on their channel and collecting link information to share with the website administrators.
How can I sign up to host a channel or to play on a channel?
Email us at sanjose@makemusicday.org if you are interested in hosting a channel or performing on a channel.
Are performers required to use a specific streaming platform?
Performers are welcome to link to whichever virtual performance platform suits them best  (facebook live, instagram live, zoom, etc). Consider your audience when selecting a platform. It is best to use a platform that your audience is already using.
I'm not a musician, but I am interested in learning. What kind of opportunities are there for the musically curious? 
Several events are being planned for Make Music San Jose that require no prior musical experience—only a desire to have fun. Participatory events will be highlighted in the schedule.
Will musicians be paid to perform?
Performers are welcome to collect tips via online services such as paypal or venmo during their virtual performance. Tips should go directly to the performer/instructor. Make Music San Jose will not collect tips on behalf of the performer nor will it compensate performers directly.  Channel sponsors and hosts may choose to work out their own arrangements with artists. 
Can I charge admission for a Make Music San Jose Concert or make it by "invitation only"?
No, all Make Music San Jose events must be free and open to the public.