Make Music San José is a free community-curated celebration of music held on the summer solstice. We look forward to celebrating with you on June 21, 2022.

#makemusicsanjose
Celebrated on June 21, Make Music San José coincides with festivities in more than one thousand cities worldwide as part of Make Music Day. The whole idea for the day is to share the joy of making music with everyone that wants to take part, from professional to amateur musicians, as well as the musically curious.
On Tuesday, June 21, 2022 from 12:00 noon to 6:00 p.m., this website will feature performances throughout the city. Events at the Parque de Los Pobladores, the School of Arts and Culture at the Mexican Heritage Plaza, San Jose City Hall, the Hammer Theater Plaza, Children's Discovery Museum, Evergreen Library, and other locations around San Jose.  will be live-streamed on YouTube Check the Make Music San Jose website for a full list of venues and performers.
Being a part of Make Music San José locally, and Make Music Day globally, is an opportunity for us to come together in spirit and celebrate the music that brings us joy. 
LIVESTREAM AT THE PARQUE DE LOS POBLADORES
LIVESTREAM AT THE MEXICAN HERITAGE PLAZA
Tune in on Tuesday, June 21st, 2022 for a Livestream of the Make Music Day San Jose events on this page.
Note: Livestream will be at the Parque de Los Pobladores stage and the School of Arts and Culture stage.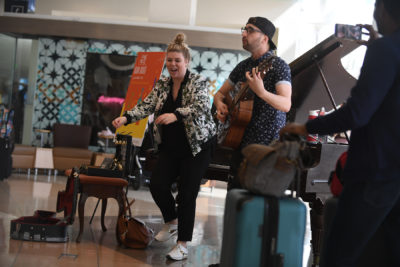 Join the Celebration!  
Make Music San José 2021 was celebrated as hybrid event on June 21 with livestreamed stages and in-person performances. Thank you to all of the performers and partners that made this celebration possible.
Join us in 2022
As we return to a new normal, we look forward to celebrating Make Music San José with more in-person performances and participatory events citywide.
Join Us
Artist, Venue, and Festival Staff Roles Each year, Make Music San José asks returning and new artists and venues to join in the one-day festival. Artists are comprised of students, amateurs and professionals – all are welcome to participate in the celebration of music. Both artists and venues sign up via our online match-making software, where each creates a profile.
Venue profiles include contact information, how long venues would like to host music, what kinds of music a venue is interested in booking and what kind of equipment (chairs, electricity, water, etc.), if any, a venue can provide.
Artist profiles include contact information, sound bites and the type(s) of music an artist or band performs. Pictures, social media and website links can all be uploaded to venue and artist profiles.
Match-making
Once the profiles are created, venues may browse the list of artists and vice versa, each requesting an amount of time from the other for a performance.
Requests are accepted or declined at the discretion of the artist or venue. Before a performance is finalized, the venue must accept the request from an artist or the artist must accept the request from a venue.
Once final, the performance is posted to our live, interactive map on our website, which the public can view and explore on an interactive web app.
Other Details
The festival is not ticketed. All performances are free and open to the public. All musicians perform for free in new locales to potentially new audiences. All venues support local artists by giving them a platform to perform and encourage participation and enjoyment of the public by opening their doors to their communities. Make Music San José staff help finalize performance details, aid venues in securing permitting, and market the festival in print, online and social media channels.
Who else is taking part?
Over 0 artists, including:
Over 0 venues, including:
2022 Listings: Tuesday, June 21st
About Make Music Day
Participate
Other Important Information to Note
What is Make Music Day?
Make Music Day is a free celebration of music around the world on June 21st, the summer solstice. Make Music San Jose is the local San Jose celebration.
Make Music Day is open to anyone who wants to take part.
Today, Make Music Day is observed on the same day in more than 1,000 cities around the world. It is the world's largest annual music event.
At what time do events take place?
In 2022, events will take place online from 12:00 noon to 6:00 pm on June 21. Please refer to the listings for specific event times.
Will Make Music Day be live-streamed?
Make Music Day will Livestream at limited venues on the San Jose Office of Cultural Affairs Youtube Channel. Check back on June 21st.
Are performers required to use a specific streaming platform?
Performers are welcome to link to whichever virtual performance platform suits them best  (Facebook live, Instagram live, zoom, etc). Consider your audience when selecting a platform. It is best to use a platform that your audience is already using.
I'm not a musician, but I am interested in learning. What kind of opportunities are there for the musically curious? 
Several events are being planned for Make Music San Jose that requires no prior musical experience—only a desire to have fun. Participatory events will be highlighted in the schedule.
Will musicians be paid to perform?
This varies from venue to venue. Performers are welcome to collect tips via online services such as paypal or venmo during their virtual performance. Tips should go directly to the performer/instructor. Make Music San Jose will not collect tips on behalf of the performer nor will it compensate performers directly.  
Can I charge admission for a Make Music San Jose Concert or make it by "invitation only"?
No, all Make Music San Jose events must be free and open to the public.