Make Music San Jose is a free celebration of music held on the summer solstice. This year performances and music-making events will be happening virtually.

#makemusicsanjose
Celebrated on June 21, Make Music San Jose coincides with festivities in more than one thousand cities worldwide as part of Make Music Day. The whole idea for the day is to share the joy of making music with everyone that wants to take part, from professional to amateur musicians, as well as the musically curious.
Typically we celebrate with performances and play-along events at venues throughout the city. The celebration this year will be moving online to protect the health of our community. While we won't be gathering in-person, the spirit remains the same.
Being a part of Make Music San Jose locally, and Make Music Day globally, carries more significance than ever. It is an opportunity for us to come together in spirit and celebrate the music that brings us joy.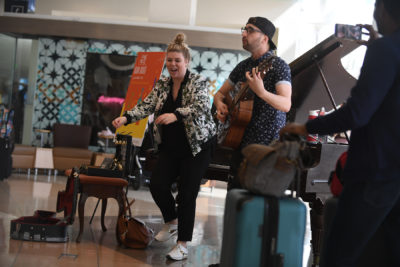 Join the (Virtual) Celebration!  
We will be celebrating Make Music San Jose as a virtual event on June 21, 2021.
During the hours of the event, a virtual portal will be posted below. The portal will feature different channels representing a variety of musical genres and participatory events.
Each channel will feature live content streaming over the course of the day.
Join in the Fun! Post a video or photo of yourself making music at home with the hashtag #makemusicsanjose
Activities for Kids
In honor of Make Music San Jose, our friends at the Children's Discovery Museum have designed fun music-themed activities for kids to do at home.  Visit the Virtual Purple Museum for more activities. Tag your creations and experiments: #VirtualPurpleMuseum  #PurpleMuseumCreations  #30YearsOfDiscovery #MakeMusicSanJose
Make a Shaker Percussion Instrument 
Do you want to be a musician? Good news, making music is easy! And so is making your very own shaker to accompany your song. Percussion instruments produce sound through vibration, so if you hit, scrape, rub, or shake the instrument, it makes a sound! Download instructions at the Virtual Museum.
Let's Get Creative! – Create a Painting Inspired by Music
Let the music move you, or better yet, your paintbrush. We'll explore how music affects our moods and the art we create. This is a great activity for emotional awareness. How does the music make you feel? Is it influencing your art? Grab a paint brush and tune into your artistic voice. What will you create?
Materials Needed: thick paper or cardboard, any kind of paint, paintbrush(es)
Don't have a paintbrush or paint? DIY brushes and paint instructions and ideas will be shown at the end of the video.
Grade Level: K-5
Science is Everywhere: Home Edition – Sensational Sounds Waves
Shhh! Can you hear that? The way things sound to our ears depends on a number of factors such as what the sound is traveling through. In the first of our three-part sound experiment series, we'll explore how sounds travel through liquids, like water. It'll be nothing but good vibrations as we splash around exploring sound waves!
Materials Needed: sink, 3 identical glasses, wooden spoon, towel
Grade Level: K-5
Let's Get Creative! – Music Notes = Art? 
The visual arts and performing arts have always influenced each other. Roy Lichenstein, a leading pop culture artist in the second half of the 20th century, beautifully integrated music into his paintings and drawings. We'll find our creative muse at this intersection of music and drawing to create our own artwork inspired by Roy Lichtenstein's "Composition" Series. 
Materials Needed: white paper, black marker, color markers, color pencils, or color crayons (red, yellow, blue)
Grade Level: K-5
Science is Everywhere: Home Edition – Sensational Sound Waves — Solids, Air, and Pitch
We're rolling with day two of sensational sound waves! It's time to experiment with pitch — how high or low the frequency of the sounds waves are. We'll test different solid materials and play with their lengths. Do you think changing materials and lengths will alter what we hear? Stay tuned! This experiment can get loud, so be ready for some sound excitement!
Materials Needed: small book (hardback is best), rubber band, 2 pens or pencils, one straw, scissors
Grade Level: K-5
Toddler Fun! (In Vietnamese) – Musical Shakers
Children love to make music and the benefits are huge, including fine motor skill coordination and language development. We invite your little one to shake, rattle and roll and create their very own musical shaker out of everyday materials.
Materials Needed: empty water bottle, beans/rice/buttons/pebbles, tape Optional Decoration: paper, scissor, color pencils/crayons, stickers, ribbons​
Let's Get Creative – Create a Musical Score with One Simple Continuous Line
Music and movement! Line up and try your hand at drawing musical notes and instruments with one continuous line. Sound difficult? Not to worry, follow along and you'll learn techniques for how to draw shapes without lifting your marker from the paper.
Materials Needed: white paper (1-4 pieces), black marker
Grade Level: K-5
Science Everywhere: Home Edition – Seeing Sound Waves
Our ears tell us sound waves are real, but we all know the phrase, "Seeing is believing." Is there a way to see these good vibrations? With some simple kitchen materials, you just might be surprised.
Materials Needed: bowl, plastic wrap, rubberband, rice (or tiny dry objects)
Grade Level: K-5
Toddler Fun! (In Vietnamese) – Water Xylophone Experiment
Surround yourself with sound and make your own water xylophone in this fun experiment. Explore pitch and listen to the different sounds water glasses make depending upon the water level. Does more water make the sound higher or lower? Color up some kitchen science and have a blast!
Materials Needed: 6 identical clear glasses, food coloring (red, blue, and yellow), water, measuring cup, wooden or metal or plastic spoon
Read the 2020 Virtual Make Music San Jose Press Release. Documentation of past Make Music San Jose celebrations below:
As part of the Street Studio event, San Jose producer Rey Resurreccion created an original song from samples gathered from the public in front of Circle A Skate Shop on Make Music San Jose 2019. Listen to the song he created. 
About Make Music Day
Participate
Other Important Information to Note
What is Make Music Day?
Make Music Day is a free celebration of music around the world on June 21st, the summer solstice. Make Music San Jose is the local San Jose celebration.
Make Music Day is open to anyone who wants to take part.
Today, Make Music Day is observed on the same day in more than 1,000 cities around the world. It is the world's largest annual music event.
At what time do events take place?
In 2020, events will take place online from 12:00 noon to 6:00 pm on June 21. Please refer to the listings for specific event times.
How will the virtual Make Music San Jose work?
Make Music San Jose will set up an event portal featuring different channels. On June 21, the portal will go live. A visitor to the portal will be able to click on the channel of their choice and will be able to link to the performance/event happening at that moment. 
The link is provided by the performer/instructor. A Make Music San Jose website administrator will connect the link to the channel at the time of the performance. 
Channel host/curators are responsible for coordinating with the performers/instructors on their channel and collecting link information to share with the website administrators.
How can I sign up to host a channel or to play on a channel?
Email us at sanjose@makemusicday.org if you are interested in hosting a channel or performing on a channel.
Are performers required to use a specific streaming platform?
Performers are welcome to link to whichever virtual performance platform suits them best  (facebook live, instagram live, zoom, etc). Consider your audience when selecting a platform. It is best to use a platform that your audience is already using.
I'm not a musician, but I am interested in learning. What kind of opportunities are there for the musically curious? 
Several events are being planned for Make Music San Jose that require no prior musical experience—only a desire to have fun. Participatory events will be highlighted in the schedule.
Will musicians be paid to perform?
Performers are welcome to collect tips via online services such as paypal or venmo during their virtual performance. Tips should go directly to the performer/instructor. Make Music San Jose will not collect tips on behalf of the performer nor will it compensate performers directly.  Channel sponsors and hosts may choose to work out their own arrangements with artists. 
Can I charge admission for a Make Music San Jose Concert or make it by "invitation only"?
No, all Make Music San Jose events must be free and open to the public.