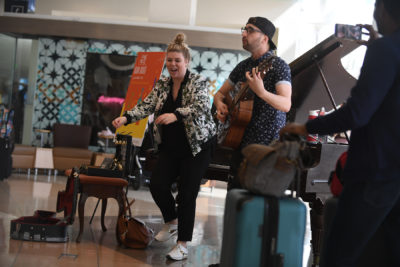 Participate
Join Us
Artist, Venue, and Festival Staff Roles Each year, Make Music San José asks returning and new artists and venues to join in the one-day festival. Artists are comprised of students, amateurs and professionals – all are welcome to participate in the celebration of music. Both artists and venues sign up via our online match-making software, where each creates a profile.
Venue profiles include contact information, how long venues would like to host music, what kinds of music a venue is interested in booking and what kind of equipment (chairs, electricity, water, etc.), if any, a venue can provide.
Artist profiles include contact information, sound bites and the type(s) of music an artist or band performs. Pictures, social media and website links can all be uploaded to venue and artist profiles.
Match-making
Once the profiles are created, venues may browse the list of artists and vice versa, each requesting an amount of time from the other for the performance.
Requests are accepted or declined at the discretion of the artist or venue. Before a performance is finalized, the venue must accept the request from an artist or the artist must accept the request from a venue.
Once final, the performance is posted to our live, interactive map on our website, which the public can view and explore on an interactive web app.
Other Details
The festival is not ticketed. All performances are free and open to the public. All musicians perform for free in new locales to potentially new audiences. All venues support local artists by giving them a platform to perform and encourage the participation and enjoyment of the public by opening their doors to their communities. Make Music San José staff help finalize performance details, aid venues in securing permitting, and market the festival in print, online and social media channels.
Who else is taking part?
Over 62 artists, including:
AWỌ -- Alan -- Andre Thierry -- Audrey Rose Walker -- Bad Beginning -- Bear Bleach -- Blue Raven Collective -- Daniel Dragonstaff -- Douglas Forman -- Edgar Ochoa -- Esther Young -- Free Group Guitar Lesson -- Hotel Serenity -- House of Asha -- Ionic Bond -- Irene Diaz -- James Ramirez -- Kids Community Sing Along! (ages 5-18) -- Los Panaderos -- M'sippi Slide -- Marcus Rodriguez -- Mariachi Azteca -- Melanmolly -- Melinda Kausek -- MiFaSol Band -- Mike Mendoza -- None Too Soon -- Oceana Conner -- One Way Music -- Opera San Jose -- Play-Along: Music & Movement with Marsha -- Rafael Unplugged -- Resounding Achord Productions -- Roberto Romo -- Rosemarie Austin -- Ryan Trujillo -- SAM0 -- SONUS -- San Jose Saxophone Choir -- Santa Clara Valley Fiddlers Association -- Savaiah -- Sax-O-Phun -- Sharat Lin - Dance of Peace -- Shayla the Artist -- Simantinee Roy -- Sorinvibee -- Special Any Ability Art Activity: Make Music Day -- Stephen Ross -- Stevie Dale -- Super Soul Bros -- Superlative chamber group -- Surabhi Vijay -- Sylvia Bosco -- The Eternity Band -- The Hello Hello's -- The New Hope Band -- Thrown Out Bones -- Velmalicious -- Vivace Youth Chorus -- YVNG BOATSHOES -- Yonex Jones -- constant lyt
Over 30 venues, including:
Almaden Academy of Music -- Arena Green Park -- Cambrian Library -- Camden Community Center -- Children's Discovery Museum of San Jose -- Cypress Community Center -- Discovery Meadow -- Dr. Martin Luther King, Jr. Library - Children's Room -- East San Jose Carnegie Library, San Jose Public LIbrary -- Eastridge Center -- Empire 7 Studios -- Fox Tale Fermentation Project -- Guitar Center - San Jose -- Heritage Rose Garden -- Institute of Contemporary Art San Jose -- Raymond Bernal Jr. Memorial Park -- San Jose City Hall Plaza -- San Jose Mineta International Airport TERMINAL A -- San Jose Mineta International Airport TERMINAL B -- San Jose Museum of Quilts and Textiles -- San Jose Public Library - Evergreen Branch -- San Jose Public Library Seven Trees Branch & Seven Trees Community Center -- San Pedro Square Market -- School of Arts and Culture at MHP -- SoFa Market -- St. Francis Episcopal Church -- Tully Community Branch Library -- West Valley Branch Library -- William Lewis Manly Park -- Willow Glen Community Center