Participate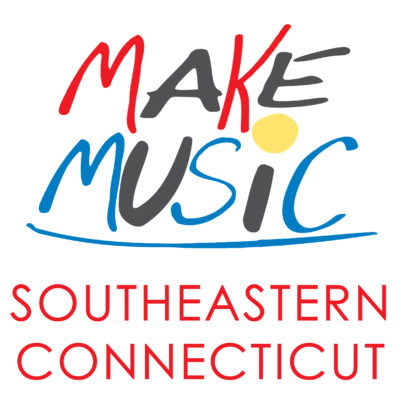 Make Music Day Southeastern CT is Tuesday, June 21, 2022!
Make Music Day Southeastern CT is returning on June 21, 2022, for our region's 5th annual celebration. This year, we expect a full schedule of in person, live public performances.
We invite you to join in one of the many Make Music Day initiatives that will take place this year in Southeastern CT. You can also curate and share your own free performance.
Unlike traditional music festivals, Make Music Southeastern CT is an open invitation for everyone to make music anywhere and everywhere.
Musicians & Host Locations – How Can You Participate?
Make Music Southeastern CT 2022 will feature live, in-person performances (following state and local protocols). All Make Music Southeastern CT performances must be free to attend and family-friendly.
Anyone interested in celebrating Make Music Day by performing or hosting a performance(s) should register with us. Registered performances appear on the online Make Music Day Southeastern CT schedule and will be promoted on social media, our website, and via email.
CLICK HERE TO REGISTER
For musicians, groups, venues and performance hosts
Note: Users who registered with us in 2021 should be able to revise/update your profile from last year.
Featured National Projects 2022
Musicians may also participate in National Projects coordinated by the Make Music Alliance. These include:
Faire La Fête
Flowerpot Music
#MySongIsYourSong
Sousapalooza
The American Song
Young Composers Contest
Mass Appeal
Information about how to participate is available at www.makemusicday.org

Who else is taking part?
Over 60 artists, including:
Julie Stepanek -- A Former Friend -- Ada Florek -- Alec Leshy -- Artreach Jazz Quartet -- Blooming into Greatness performers and more! -- BlueBird featuring Leigh Harrison & Bob Perfetto -- Braiden Sunshine -- Brian D Story -- Brian Gore & The Tender Fritters -- Bruce A McDermott -- Byrd StayLow -- Chris Funk -- Chris Listorti Project -- Coalition Jazz Band featuring Kirk Edwards -- Colin Hallahan Band with special guest Sophia Griswold -- Danny Fleet -- Double the Dial -- East Lyme Senior Guitar Group -- Five Bean Row -- Groovy Grownup Outdoor Sing Along at the Bill Memorial Library -- Guno and Jake -- Hot Strings Cafe -- Hugh and Dana -- Jalepeno Martini -- James Burke -- John Brown and Friends -- John Fries -- Julie Stepanek -- Kosch & Krash -- Leigh and Hunter Duo w/ Amy Leigh -- Lucas Neil -- Mary Ellen Cowles -- Mia Mhoor -- Mystic Ukulele Strum Ensemble -- New London Community Orchestra (students) -- New London Community Orchestra (adults) -- New London Drone Orchestra -- Nickelodeon barbershop quartet -- Nightingale's Showcase -- November Sound -- Old Lyme Town Band -- Old Possum's Jazz Band -- Participatory Percussion Class with Jacob Graham -- Paul McCarron -- Peter Previty -- Ryan Mitten -- Sing Along For Kids with Children's Librarian Mary-Jane Carle and Friends -- Slyne and the family stoned -- Steve Dedman -- Steve Patarini and Not My Friends -- Sunny Train -- The Midnight Anthem -- The Moving Target Band -- The Scoville Unit -- Thor Torgensen -- Those Guys -- Underwater Runner -- Wendy Ingram -- Wild Irish Spirit
Over 18 venues, including:
Acton Public Library -- Artreach, Inc. -- Custom House Maritime Museum -- David Ruggles Freedom Courtyard at Norwich City Hall -- East Lyme Public Library -- East Lyme Senior Guitar Group -- Garde Arts Center -- Groton Public Library -- La Grua Center -- Lyman Allyn Art Museum -- Make Music Old Lyme Stroll - Lyme Street -- Mystic Knotwork -- Mystic Noank Library -- New London's Whale Tail Stage -- Public Library of New London -- Right Path Organic Cafe -- The Bill Memorial Library -- Waterford Public Library